Guest Posts
Five reasons we chose a minivan to travel the country
Today, Matt, from The Resume Gap, recalls why they chose a minivan to call their traveling home.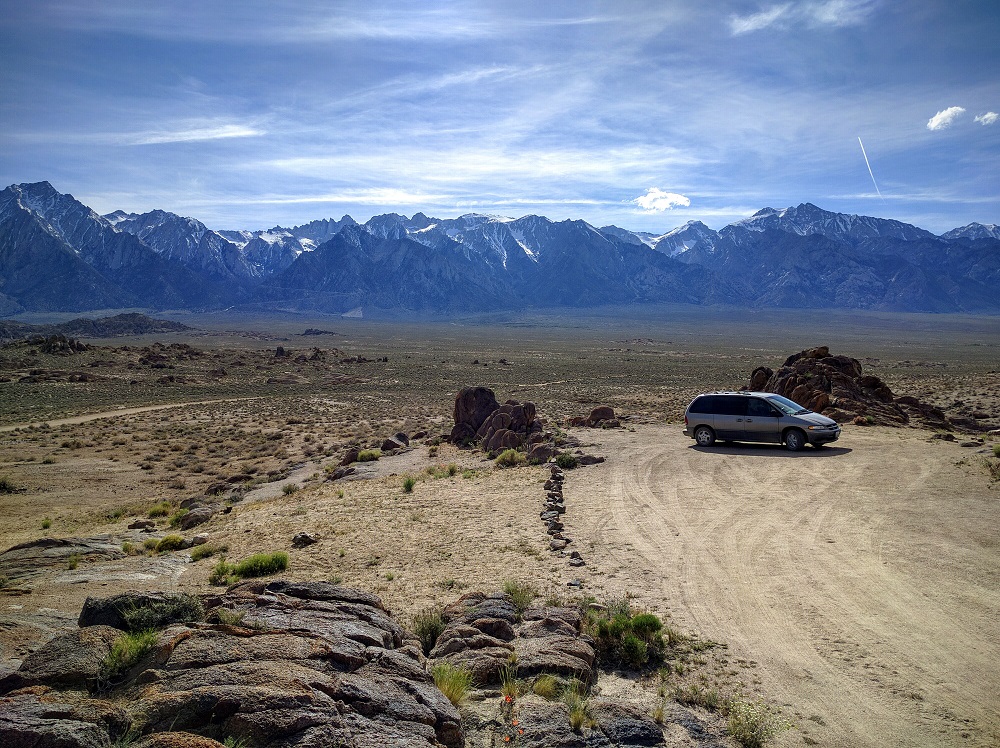 Good day, beautiful people! Today, I'm coming at you with a guest post, this time from Matt from TheResumeGap.com. These guys travel the country in a minivan camper and have totally mastered the definition of minimalism and proved how awesome and comfortable van life could be.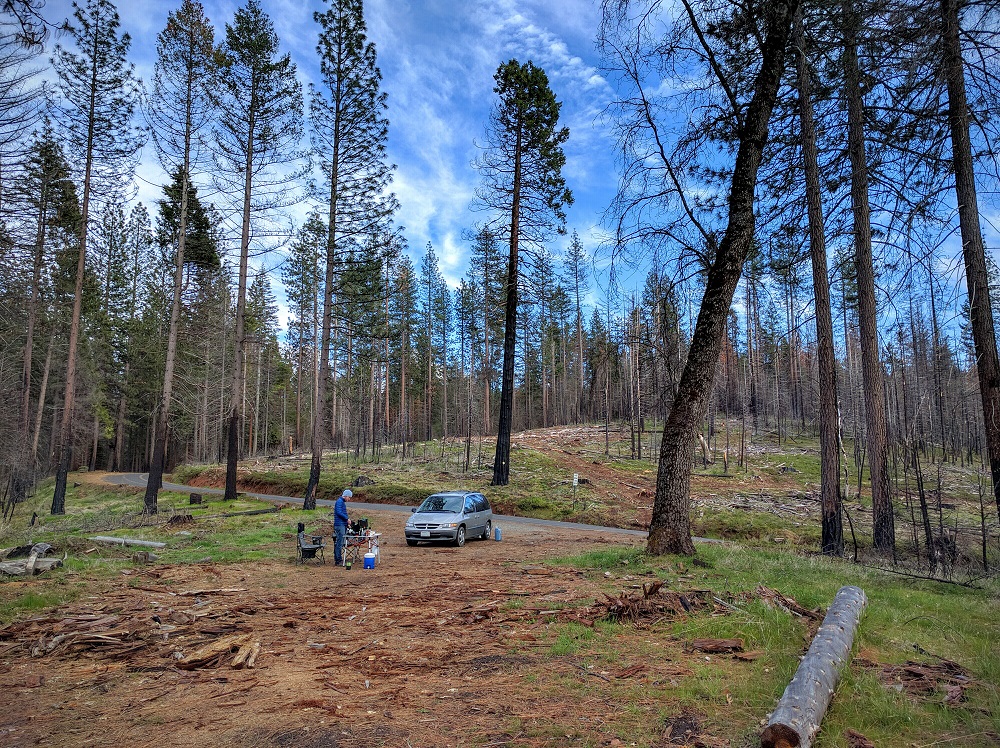 Thanks for inviting us, Steve. We're huge fans of Think Save Retire and your Airstream dream!
When Daniel and I quit our jobs a few years ago at the beginning of 2016, we knew we wanted to spend at least a couple years traveling the world, including taking a long road trip around North America. We evaluated the whole spectrum of vehicle options – everything from throwing a tent in the back of a sedan to buying a big RV or trailer. Much to the amusement of our friends and family, we ultimately decided on a minivan camper.
Finally, the soccer-mom lifestyle we've always dreamed of!
How do you sleep in a minivan?
Many people ask us this all the time. In order to sleep well in a minivan, we needed to undergo what we call camper conversion. We made a few light modifications to our minivan – taking out the seats leaving only the front seats, throwing an air mattress topped with memory foam in the back, and building some extra storage – then we hit the road in our new and improved camper van. The best thing about air mattresses is that they're relatively cheap, light weight, and fit perfectly within the minivan in place of the back seat.
We've now spent almost six months traveling the U.S. and Canada in our beloved Dodge Caravan, covering 28 states and 3 provinces so far. Van life has been one of the most fun things we've ever done.
Here are a few reasons I'd encourage anyone thinking about road-tripping the country to consider a similar minivan camping setup:
Low commitment
When we first decided to take off on this adventure, I had a looming fear: What if we don't like long-term travel? I had been doing regular work travel for years, and we had both taken shorter road trips, but neither of us had ever spent more than a few weeks at a time away from home.
With no full-time travel experience under our belts, I was hesitant to drop tens of thousands of dollars on a big RV or trailer. What if we decided after just a month that we didn't want to be on the road full-time? The minivan camper addressed that concern. For the bargain price of less than $2,000 (plus a couple hundred dollars of materials to build additional storage), we had our first rig. If at any time we decided that long-term minivan camping wasn't for us, we could easily resell the van and be done with it.
That low upfront investment has also given us more flexibility with our travel plans. We parked the van for three months this summer, for example, to travel in Eastern Europe. Because we hadn't spent a ton of money on a vehicle, we didn't feel any nagging guilt about sunk costs – and we were able to keep more money invested in the market rather than in depreciating assets.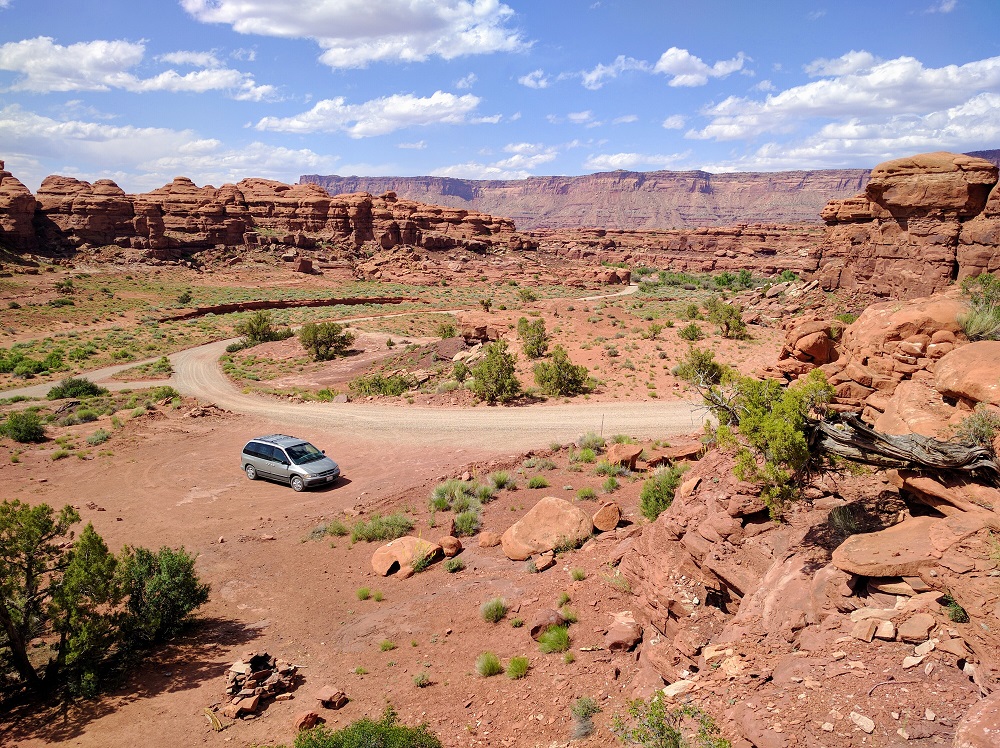 Simplicity
One of the major things that appealed to us about taking time away from work was the opportunity to simplify our lives – spending more time on the things that matter to us (like traveling and visiting friends and family) and less time on the things that don't (like household chores and accumulating "stuff").
Traveling in a smaller vehicle appealed to us because it forced us to be discerning with every item we brought with us. We're a long way from being the poster children of minimalism, but it's remarkable how few things you need on the road. When we returned home for the first time after three months of minivan camping, we actually ended up offloading a number of items we thought we would want but didn't end up using.
Do you have what it takes to be a digital nomad?
Comfort
Back in April, we met up with some friends at Joshua Tree National Park for a weekend of camping and hiking. While we slept comfortably in a real bed in the well-insulated confines of the van, their small backpacking tent got blown around all night in 40 MPH winds. In below-freezing temperatures, we might normally be shivering in our sleeping bags – but in the van, we can always crank on the heat for a few minutes.
Just like at home, it's easy to get stuck comparing our possessions to what's newer and nicer. At home, it might be the neighbor's fancy house or luxury car. On the road, it's a luxury RV with multiple pop-outs or a tricked-out $100k Sprinter van. But when we remind ourselves of the other alternatives (like wintertime camping in a tent), it's easy to appreciate that van camping is downright luxurious.
Flexibility
We're city-dwellers at heart, and we love exploring urban settings just as much as we love hiking through the backcountry. Our van works for both. We've driven it down dirt roads in rural Utah and Wyoming with no one around for miles, but we've also parallel-parked it everywhere from downtown Toronto to the Chicago Loop to San Francisco's Mission District. Try doing that with a big trailer. (No offense, Airstreamers!)
If we were planning to live on the road full-time for years, I'd happily consider a larger setup. But for a few months of travel with frequent city stops, the van suits our needs just fine.
Being able to sleep in our vehicle also gives us more lodging options in places where a tent wouldn't be appropriate, like undeveloped National Forest areas, highway rest stops (where car camping is permitted in many states), or the occasional Walmart parking lot (where we've spent a few nights when there weren't other options).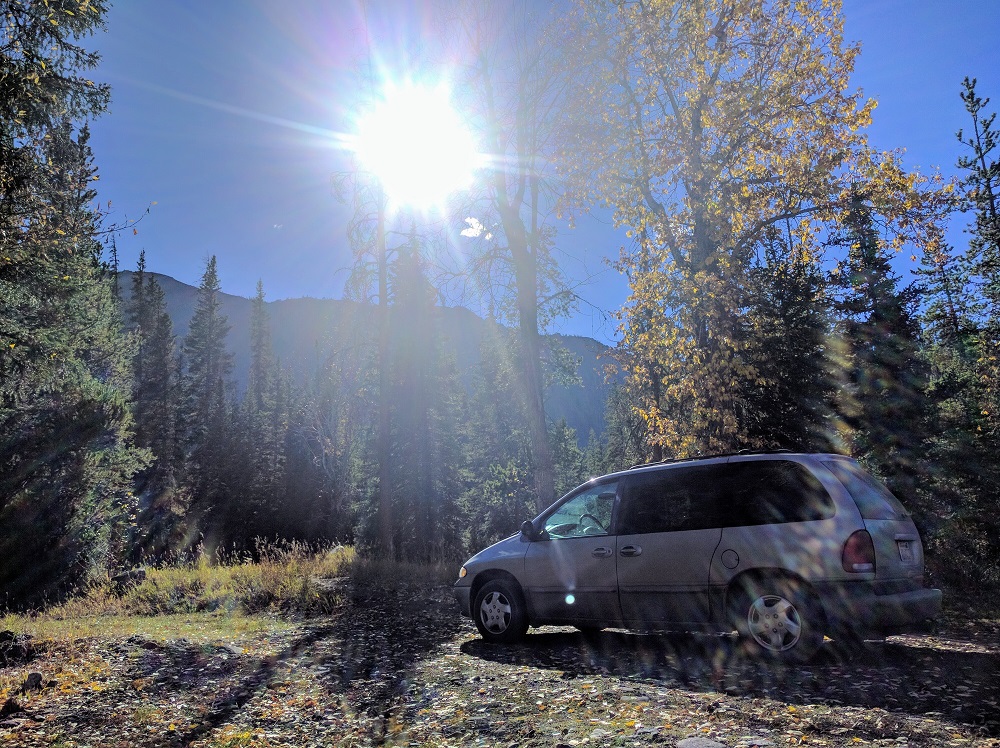 Operating cost
Our travel budget isn't exorbitant, so every dollar counts. Cruising the country in a van has been substantially cheaper than many of the alternatives. Gasoline is one of our biggest expenses, so we appreciate the van's decent fuel economy (around 24 MPG, or 10 L/100km). Insurance cost is minimal, and because the vehicle isn't worth much, we don't pay for collision or comprehensive coverage. Depreciation has been minimal, too. In fact, our van's blue book value has gone up since we bought it!
Keeping those costs low means we're able to spend more money on things we value, and it means we can travel longer. That's a trade-off we'll happily make every time!
Can a Dodge Grand Caravan pull a camper?
Say minimalism isn't your thing, but you're still looking to pursue a similar set-up as we did for your next long-term road trip. You can always hook your Dodge Grand Caravan up to a camper as its towing capacity is pretty high. In doing some research, we confirmed that our minivan could tow up to 3600 pounds. So we if wanted to eventually expand our storage capabilities, we could always find a camper that weighed something within the 2500-3000 pound range. That's the other nice thing about opting for a minivan – you can always scale up or down the amount of things you'd like to take with you on each trip.
S
Steve Adcock
Steves a 38-year-old early retiree who writes about the intersection of happiness and financial independence.