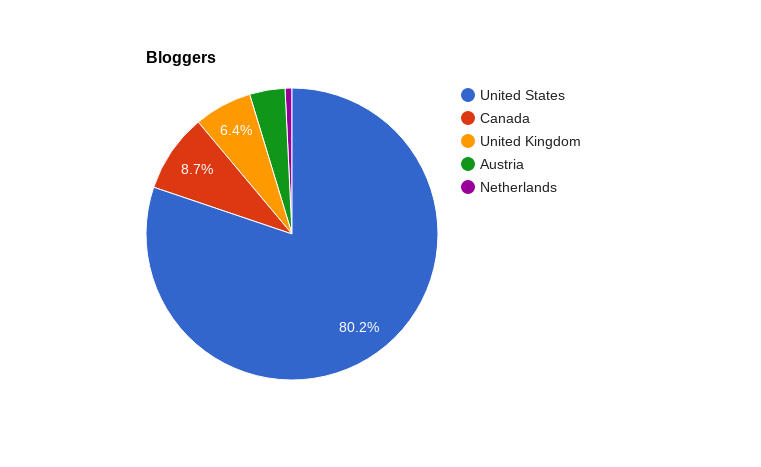 Hey all you number lovers out there! This post is for you. Today, I'm taking a look at the Rockstar Finance Directory that J$ and I built by running some numbers. We're pullin' out some intel.
Of course, all of these numbers depend on the blogger giving us the straight scoop. We have no reason not to believe you fine people. Also, if you have a personal finance blog that isn't being tracked over on the Directory, do yourself (and us) a favor and add that sucker!
In case you don't know, the Rockstar Finance Directory is a growing directory of personal finance and money blogs all in one unified tracking system. We're keepin' your net worth (if you give it to us). We track your RSS feed. You even have your own profile page (like this). We're building some cool community-building tools into the system over the next couple of months, too. Stay tuned.
Okay, enough with the chatter. Let's see some numbers. If you have an idea for other types of graphs using the Directory as the numbers source, comment below and let me know!
The Top 5 Countries
This chart plots the number of bloggers that we're tracking by the top 5 countries. No surprise that the United States remains way out in first place, with Canada second. Glad to see Austria and Netherlands in the mix!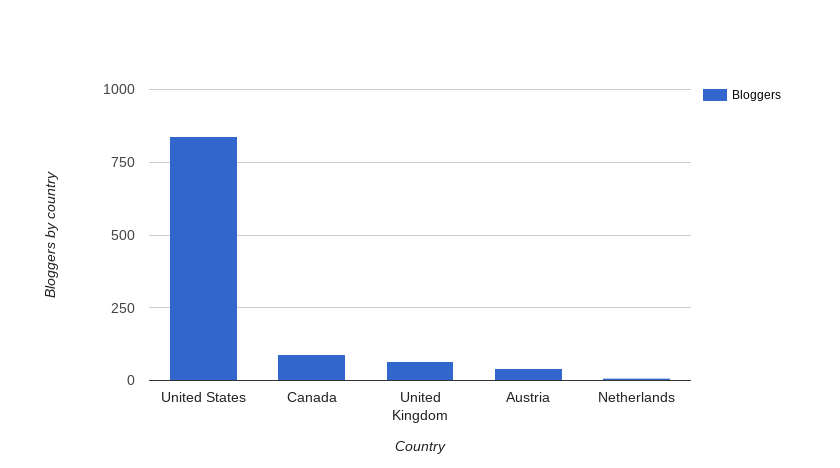 Raw Data:
CountryBloggersUnited States838Canada91United Kingdom67Austria41Netherlands8
Average net worth by age
I averaged out the net worths of bloggers by age range. The older you are, the greater your average net worth - no surprise there. The relatively small difference between bloggers in their 50s and 60s is interesting, though.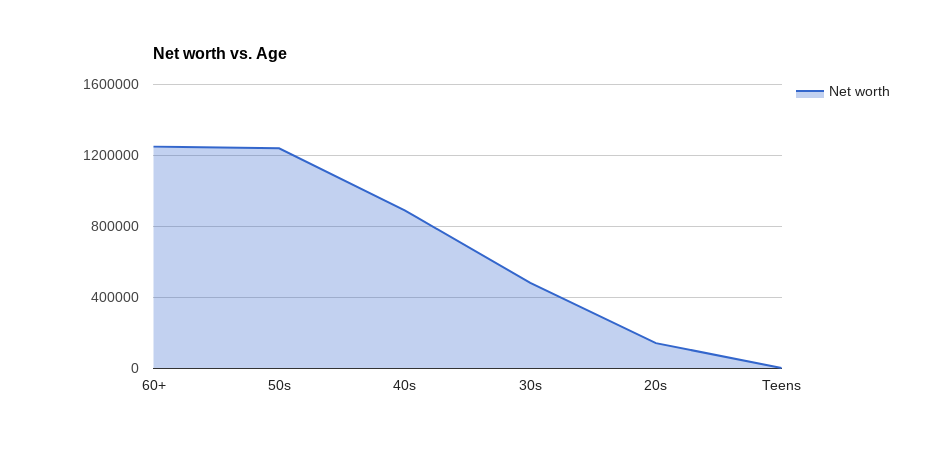 Raw Data:
AgeAverage Net Worth60+$1,250,00050s$1,240,40740s$891,23430s$482,62320s$142,782Teens$3,000
Most common day of the week to post
According to our RSS archives that we keep for every blog we track (currently over 30,000 posts), these are the most common days of the week to publish a new blog post. Looks like if you want the least amount of "competition" for a new post, consider posting on Saturday!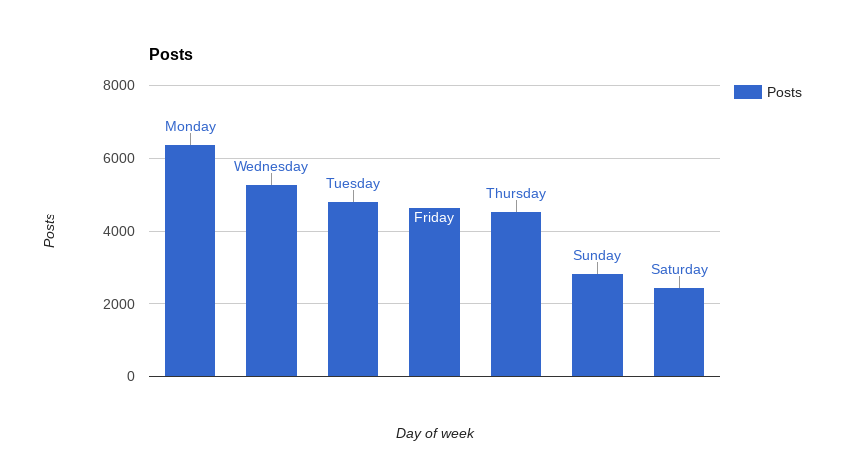 Raw Data:
PostsDay of the week6385Monday5271Wednesday4816Tuesday4635Friday4539Thursday2823Sunday2434Saturday
Number of bloggers in debt by blog category
General Finance seems to be the category with the most number of bloggers in debt. Then again, it's also the most popular category for blogs. Relatively small numbers, though (among those who report their net worth to us).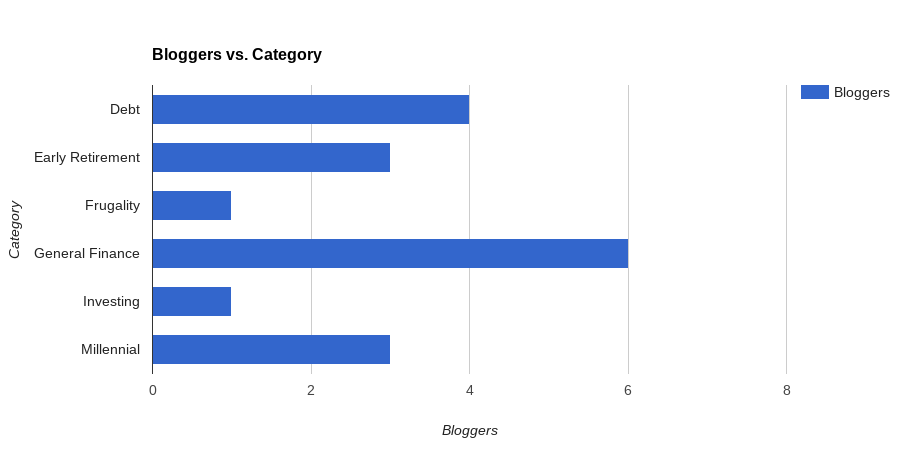 Raw Data:
CategoryNumber in DebtDebt4Early Retirement3Frugality1General Finance6Investing1Millennial3
Number of blogs that are less than two years old by category
This is one of the more interesting graphs because it makes it easy to visualize the kinds of money blogs that bloggers are spinning up. No surprise on General Finance, but love that Early Retirement comes in second.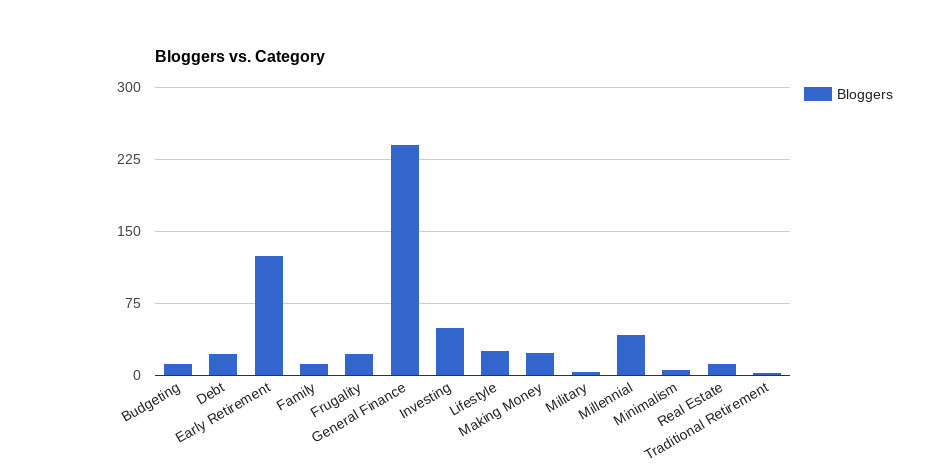 Raw Data:
CategoryNumber startedBudgeting12Debt23Early Retirement125Family13Frugality23General Finance241Investing50Lifestyle26Making Money24Military4Millennial43Minimalism6Real Estate12Traditional Retirement3
Top five net worths by profession
Surprise, surprise! Those in the information technology industry report the highest net worth. I am surprised, though, that Physician came in fourth. I would have assumed a 2nd place finish!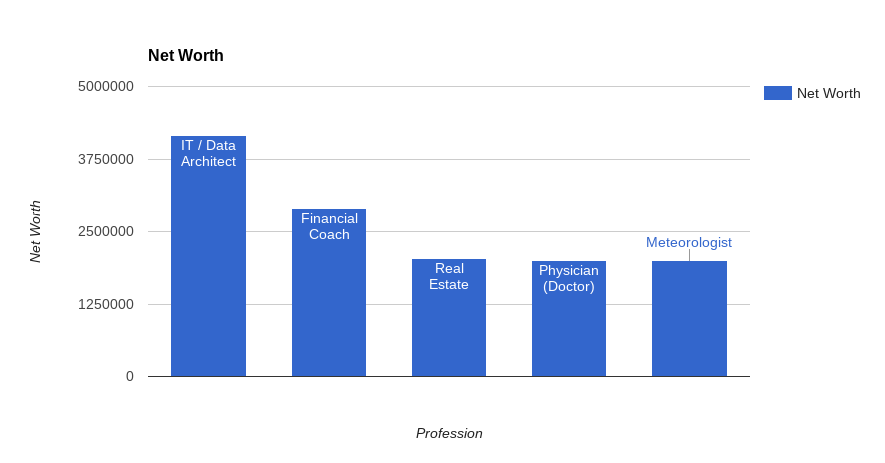 Raw Data:
ProfessionNet worthIT / Data Architect$4,156,344Financial Coach$2,900,000Real Estate$2,041,045Physician$2,002,305Meteorologist$2,000,000
Top 4 average posts per week
These blogs are posting a ton of stuff every week. The Penny Hoarder, of course, leads the pack.
Weekly AverageBlog49The Penny Hoarder (Link)45Penny Pinchin' Mom (Link)24Argentarium (Link)22Due.com Blog (Link)
A few other interesting stats and metrics by Gender
MetricMaleFemalePercentage of bloggers by gender55% (630 total males)33% (374 total females)Average net worth$540,956$278,886Most popular blog category (other than General Finance)Early RetirementFrugalityMost common professionEngineerWriterAverage blog age5.77.9
Did you know: The Rockstar Directory also tracks the RSS feed for many of the blogs in the system and displays them on the Feeds page. We also archive RSS posts and will introduce the ability to search these feeds in the future. So far, we have over 30,000 posts indexed!
Data becomes information. Information becomes intelligence. :)
Ideas for other gems to track? Lemme know!
S
Steve Adcock
Steve
is a 38-year-old early retiree who writes about the intersection of happiness and financial independence. Steve is a regular contributor to MarketWatch, CNBC, and The Ladders. He lives full-time in his 30' Airstream Classic and travels the country with his wife Courtney and two rescued dogs.