Change Your Life
Sedona, AZ is definitely in our future
We love Sedona, Arizona. We're determined to live our off-grid life there. Here's how we're going to do it.
I will admit it is a little strange knowing that so many people believe that Sedona, the small red rock town in northern Arizona that my wife and I are planning on moving to as full time residents, is home to something akin to mystical energy (known to the locals as "vortexes"), but my wife and I love that town nonetheless.  We love it for its beauty, its tranquility, the higher sense of privacy its offers, and the way that it makes us feel every time we visit.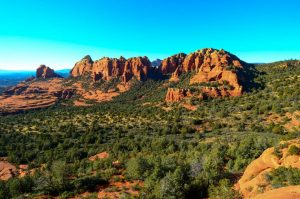 Nestled within Arizona's red rock country nearly two hours north of Phoenix, Sedona is a tourist haven during the summer and a relaxing getaway during Arizona's relatively warm winter months.  Views of sweeping red rocks glimmer with the evening light, delighting photographers like me and anyone who appreciates southwestern life.  There is no other landscape quite like what this city offers.
Nestled within Arizona's red rock country nearly two hours north of Phoenix, Sedona's population consists mainly of tourists during the summer and serves as a relaxing getaway during Arizona's relatively warm winter months.  There are some of the best views of sweeping red rocks, which tend to glimmer with the evening light, delighting photographers like me and anyone who appreciates southwestern life.  My wife and I have come to learn that there is no other landscape quite like what this city offers.
What is Sedona, AZ known for?
My wife and I have come to see Sedona, AZ as being a vacationer's paradise. In the heart of the Arizona desert, visitors and locals alike can find beautiful canyons and red rock formations such as Bell Rock and Oak Creek Canyon which serve as incredible backdrops for impressive artistry and recreational activities. There is a wealth of interesting architecture within the city itself, including the Chapel of the Holy Cross and other pretty buildings on Main Street. But the absolute show-stoppers are the intense sun sets and Sedona night skies.
In other words, Sedona rocks. And we are excited to join its population of residents.
The first time that my wife and I visited Sedona in 2013 we stayed in one of its quaint hotels. During the stay, we toyed with the idea of moving up there. Our current home is about 4 hours south, in Tucson, AZ.  We would need to downsize, but honestly, we want to do that anyway since our family is relatively small.  I love photography and my wife loves to hike.  And we both adore the red rock landscape and the energy and public goods and services that a small, but active, town like Sedona affords.
Is Sedona a good place to live?

We spent three days between Christmas and New Years in Sedona this winter at a nice bed and breakfast.  Everything was perfect.  Although we were cold at night, the median temperature was around 50-degrees each day which gave us a chance to get out and hike some of the best trails, enjoy a new south American restaurant that recently opened up and meet some very interesting people along the way.  As always, our trip to Sedona was a success.  We loved every minute of it.  Each time we go, we talk about the idea to cut ties with Tucson and migrate our small family up north.
Sedona is a great place to live for nature lovers. The town is super clean and feels safe to walk around both in the daytime and at night. While most people living here are retired or older, Sedona has a decent school system for larger families that include kids. There is even a tuition free charter school for parents looking for offerable academic offerings.
Now, it's official.  The idea that we toyed with has become more than just a pie-in-the-sky goal, something that we "may consider" if the opportunity presents itself.  The truth is this is the city that we absolutely hate to leave.You know those vacations that you take where you're happy that you went, but you are also looking forward to returning home and being able to sleep in your own bed?  Well, not here.
Don't get me wrong - we love our Tucson home and the friends that we have in the city.  But, we love red rock country more - more than sticking around a larger city for the sake of money and "night life".
We are moving to Sedona, damn it.  Come hell or high water, we will be moving to the place that we both love to make a new life for ourselves.  Our job now is to put all of the pieces together to do this as smart as we can, maximizing our savings while we are still both working in Tucson and setting us up to make this transition into the next phase of our lives easy and natural.
As with any other city with magnificent beauty, Sedona is not a cheap place to live, and my wife and I are fully aware that the cost of living there will be more than in Tucson. We have come to learn a school of thought that in life, you can't have it all.  Want freakishly stunning beauty?  Okay, but give up cheap gas.
Here is the plan
My wife and I have considered a bunch of different options to make this move possible, and the plan starts with effectively relocating our current rental property from southern Arizona to Sedona to establish ourselves in the area and to start paying down on a reasonable mortgage and insurance policy as quickly as possible with rental income – without actually living there yet.
We own a rental property in a small town south of Tucson.  The current rental contract and insurance policy extends through midyear 2016.  After the contract expires – depending on the public housing market at the time – we will look to sell the rental property and use the revenue from the sale to put a large down payment on the best townhouse or apartment we see in the Sedona area and immediately begin renting out that property.
The idea here is to find a cheaper mortgage on a smaller rental property – so, no standalone home.
Keeping the new Sedona property under $170,000 or so (before our down payment) will set us up for a low enough mortgage to make a small profit on the monthly rent.  If all works according to plan, we will have a nice steady stream of rental income in the city that we want to move to in a few years.
When my wife and I believe we are ready to relocate, we sell the house that we are currently living in and use the proceeds from that sale to pay off the remaining mortgage of the rental property in Sedona and live in it for a year or two – I will continue working and providing my services (from home) and we will sock away every spare penny for another down payment on our home – most likely a standalone property with a yard and a view of the red rocks.  Until then, we live mortgage-free in our townhouse instead of one of the hotels or bed and breakfasts we have stayed in during past visits.
After moving into our home, we re-list the townhouse as a rental property to help us pay the new mortgage.  From there, anything goes. We wish for the best, but it all depends heavily on the real estate market at the time.
Short term goals
Most of our short term goals remain unchanged – save every penny that we can and continue contributing the wife's entire salary into our savings.  The more savings that we have, the easier that the move to Sedona will be.
What changes is how actively we focus on Sedona real estate and the overall market.  Sedona is rich. Residents have a relatively high median income and there is a high turnover of younger folks who live in the area for a few years (or months!) who then move on.  This ultimately bodes well for the townhouse rental because these scenic vagabonds are generally not in any position to purchase a home and solidify themselves in any particular area.
We need to talk with a good realtor to get a feel for how supportive the Sedona market is for our plans of moving into the area, hopefully into a completely paid off townhouse initially, then into our more permanent home.  Staying focused with our eye on the prize won't be hard.  With each trip to Sedona, our excitement to live there only strengthens. We are not only excited by gaining regular access to all the beautiful public parks in the area, but also looking forward to a life with more seclusion and privacy.
Long term goals
Retiring by 40 is still the goal and is very achievable even with the move to a city with a relatively high cost of living.  Before we decided to prioritize this move, my actual targeted retirement age was more on par with a median age of 36 or 37 rather than 40, but now, it will probably be closer to 40.  No big deal.  But, even if I don't ultimately retire by 40, it would come as the result of our move to the city that we love – a happy choice, for sure.
Life is a series of trade offs. It is not a crime to choose the right things that make the most sense to you is the key to enjoying your life to the fullest.  A lot of the right things for my wife and I include the outdoors, and there are few better places in the world to live for outdoorsy-types like us than Sedona, Arizona.
We also need to look into alternative sources of income.  My wife loves to knit and is considering how to monetize the time that she spends working with yarn and fabric.  For me, it's photography.  Selling photographs online, starting a photo tour business in Sedona or a photography gallery are all things that I am considering.
As the adage goes, if you do what you love, you never truly "work" a day in our life. After we move to Sedona, we hope to turn that adage into our way of life.
S
Steve Adcock
Steves a 38-year-old early retiree who writes about the intersection of happiness and financial independence.