Well crap, I suppose it was only a matter of time.  I reported a couple months ago about the screaming good deal that people had with the Target Redcard and its ability to completely maximize your manufactured spending and credit card point generation.  But according to several sources, Target is no longer accepting credit cards as a means to load the Redcard with funds.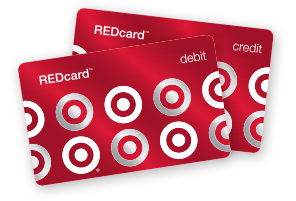 Among the credit card points and frequent flier blog community, talk of the bad news is all over the place.  According to Frequent Miler, the last day that the Redcard could have been reloaded with funds by a credit card was yesterday, May 6th.
"I just talked with three different employees at three different Target stores in the Southeast Michigan area.  The news isn't good.  Guest Service employees at two of the three stores were able to confirm the existence of the memo that says that the Target Prepaid REDcard will no longer be reloadable by credit card as of tomorrow (I believe that midnight tonight Eastern Standard Time is the true cut-off, so get to the store before 9 if you're on the west coast)," wrote Frequent Miler.
Side note: As The Penny Hoarder reports, even without the Redcard, there are several ways to save money and maximize your spending while at Target, like instant at-register discounts and stackable rebates.
This report likely came as a result of the Dans Deals post that appears to have broken the news, apparently based off of a forum post.  "DDF member Dr. Moose reports that a memo went out today to all Target stores that effective tomorrow, credit cards will no longer be an acceptable form of REDcard funding."  Apparently, Dan confirmed the memo with a local Target store.
Then, Million Mile Secrets posted that the Target policy does appear to exist, though some stores seem to be unaware of the change in Redcard policy.  So, what next?
But is there a workaround?  Sure, but it may not be free.
All indications suggest that the ability to load your Target Redcard has indeed been removed.  However, the ability to load your Redcard with a PIN-enabled debit card is still in effect.  This works because the card is effectively run as a regular debit card, and debit cards are still accepted as load mechanisms for the Redcard (more reading).  These cards may incur a fee during the purchase, however.  Plain ol' Visa gift cards appear to work as well.
What is your experience?  Have you been able to load your Target Redcard with a credit card after May 6th?
Steve is a 38-year-old early retiree who writes about the intersection of happiness and financial independence. Steve is a regular contributor to MarketWatch, CNBC, and The Ladders. He lives full-time in his 30′ Airstream Classic and travels the country with his wife Courtney and two rescued dogs.