How to Think
Target Redcard: How does $72,000 in manufactured spending every year sound?
For the moment, Target is home to one of the most profoundly good deals in our economy. Target's no-annual-fee Prepaid Redcard lets customers load funds onto what they call their "Redcard", which is used just like a regular credit card and is accepted anywhere that American Express is.
This post may contain affiliate links and/or paid placement. Click here to read our full disclosure.
Audio introduction
For the moment, Target is home to one of the most profoundly good deals in our economy.  Target's no-annual-fee Prepaid Redcard lets customers load funds onto what they call their "Redcard", which is used just like a regular credit card and is accepted anywhere that American Express is.
Note: Several sites (like this one) are reporting that the credit card load capability of the Target Redcard is no longer supported; it was only a matter of time. More information here.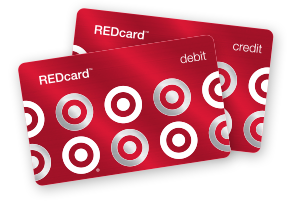 The profound element of this deal is Target lets you load funds onto their prepaid Redcard with a credit card.
Ah...I can see the wheels turning in your head already.  For those of you who credit card hack, you'll immediately realize the potential with this deal.  But for those who haven't yet delved into the wonderful world of rewards cards, check out this blog post about how it all works.
For the record, my wife and I are going to escape the sweltering Tucson heat this summer with a trip to Glacier National Park in Montana, and we're flying up there for $11.20 a piece - all due to credit card hacking.
Don't confuse these Target Redcards
First, a word of caution if you want to take advantage of this deal.  We are talking about the prepaid Target Redcard that acts as a credit card.  Target also has another card by the same name that acts just like a debit card.  We want the credit card, not the debit card.
Also, American Express offers a couple other prepaid credit card options, like the Serve and Bluebird credit cards.  I believe American Express will only allow individual customers to have one.  If you already have one of these and want to switch to the Target Redcard, you will probably need to cancel your current prepaid card.  Call American Express for confirmation before canceling, though.
What does the Target Redcard get you?
The Redcard gets customers a few purchase-related niceties like 5% off all Target purchases (in store and online), free shipping with online buys and an additional 30 days to return the stuff that you buy.
Okay, these are cool...but, there's also something else that represents a much more kick ass benefit to this card - you can use the Redcard to pay off things like your mortgage or rent...or even other credit cards.  This is a type of manufactured spending.  Depending on the size of your mortgage, one could put the entire yearly cost of the mortgage on the credit card (or combination of credit cards) that get the most rewards points through the clever use of the Redcard.
But wait, there is more.  In addition to using the card for large payments like mortgages, link your bank account to your Redcard and transfer any amount from your card right back over into your bank.
The options are plenty with the Redcard.
You can also withdraw cash from your Redcard at certain ATMs around the country (any ATM inside a Target store and any US Allpoint network ATM) instead.
Why only $72,000 in manufactured spending?
Because there's a limit to the amount of money that you can put on the Redcard by credit card in a month, and that limit is $5,000.
In fact, there are a few different credit card limits.
$5,000 monthly load limit
$2,500 daily load limit
$1,000 per load limit
In addition to the credit card load, the Target Redcard can be loaded with up to $1,000 through the use of a debit card, and if you use a card with rewards (like the Suntrust Delta debit card), that's an additional $12,000 a year in spending potential).
And so, doing the math, if the card is loaded up with the maximum $6,000 a month for the duration of the year, the total yearly amount that can be loaded onto the Redcard by a credit card is $72,000.
Damn, not too shabby.  This represents an additional $72,000 in credit card rewards purchasing every year.  Whether you're using it to pay off your mortgage or simply transferring right back into your bank account, this Target Redcard is a kick ass deal to completely maximize your credit card reward points potential.
How do I get one?
These prepaid cards can only be obtained at a Target store, and unfortunately, not all Target stores offer the Redcard.  Call your local Target or use this utility to make sure your store offers the Redcard before using the gas to make the trip.
I had to show my drivers license when I picked up my card, so be prepared for that.  Also, the cards that you buy in the store are considered temporary.  Once you complete your registration online, you will be sent your permanent card in the mail and can activate it only once you receive it (Target calls the new card a "Personalized Card" - hat tip to the marketing genius who came up with that bit).
Technically, you don't need to register online for a permanent card.  However, the temporary card has more restrictive load limits, which will reduce the amount of money that can be spent to reload the card.  There is a $500 initial load limit when initially getting the card at a Target store and a $1,500 total load limit for the card.
There is no fee to get the card.  There are no annual fees to keep the card and there are no fees to load the card with money.  Just a bunch of fee-less advantages, really.
If your local Target offers the Redcard, do yourself a favor and pick one up and start using it.  Maximize those credit card rewards, baby!
S
Steve Adcock
Steves a 38-year-old early retiree who writes about the intersection of happiness and financial independence.