How to Think
We're Airstreamers, but don't call us trailer trash!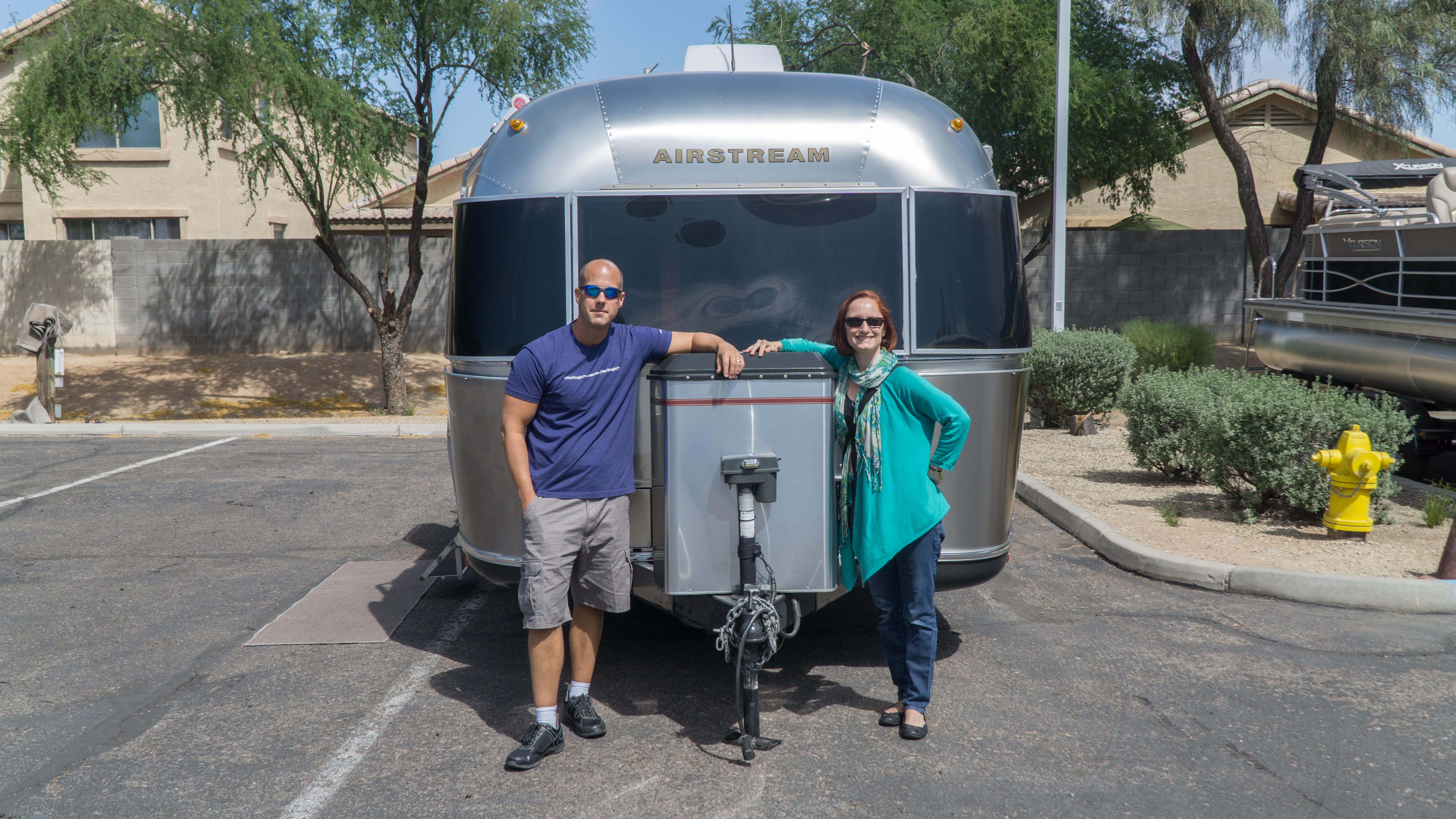 Well, we've done it - we are Airstreamers. As of last Friday, we have officially moved out of our large 1600 sqft house and into our Airstream trailer, just a shade larger than a tenth of the size of our previous home.
And so far, we're loving it.
It's just my wife and me along with our two dogs who rest comfortably at night between the bed and the curved walls of the Airstream. Like most dogs, they like to feel nestled in and secure.
It was a long day on Friday, which included my first attempt at towing the Airstream down a 75 MPH highway with our new-to-us 2008 Dodge RAM 2500 diesel. Nerve racking at the beginning, but nothing that I couldn't handle.
Stay in the right lane. Make wide turns. Don't rush - there is no hurry, especially when you're pulling your house behind you.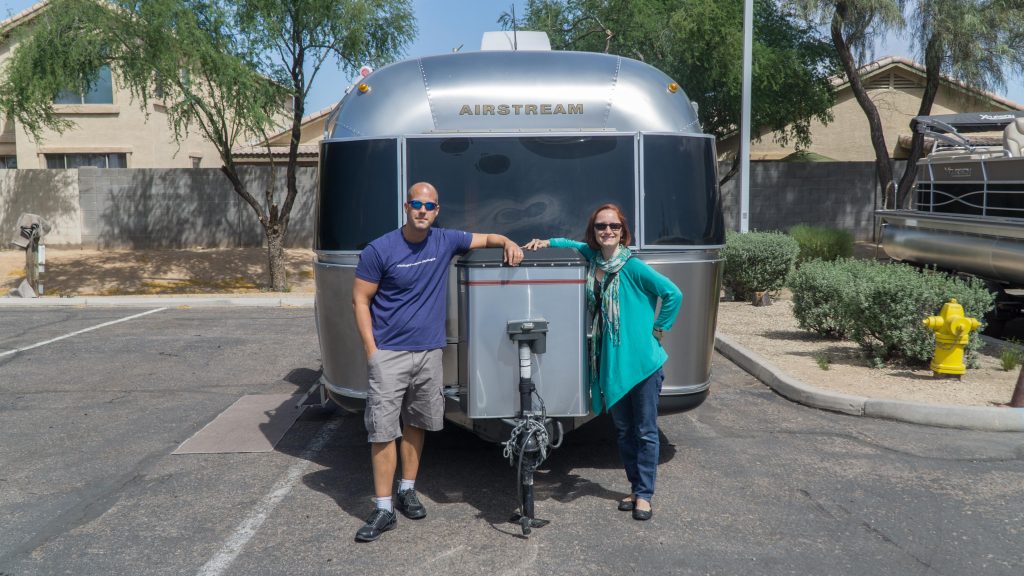 The day we picked it up
My dad, who traveled the country in various RVs for 13 years, came with us for the trip to pick up "Charlie" - the name we chose for our Airstream. The pickup required a drive up to Mesa, AZ from our now-previous Tucson home. We chatted about RV-living and good times to come for most of the trip.
This was last Thursday.
We cruised into the dealership on Thursday morning and quickly met our salesman who also leads the Airstream department at this particular dealership. He ushered us behind the building where our home sat, waiting to be reintegrated into a whole new world of travel.
In the next couple of hours, we got to see every feature of the Airstream work. Every faucet. Every switch. We flipped on the shower. Turned the A/C on. Peeked our heads into every compartment and closet. We learned how to pull out and retract the awnings. At this point, we weren't thinking about where our stuff might go or how we'd organize the spice rack in the kitchen (and yes, we have a spice rack!).
We were just enjoying the experience, knowing that shortly, this will be our home.
After the tour of the Airstream, we installed our new Hensley hitch (expensive, but also the best out there) and set sail back to Tucson. Though I had never pulled something as big as a 30 foot Airstream before, the drive back was uneventful.
I kept telling myself: Remember, Steve - wide turns. Keep lots of distance between you and the car in front of you. Take it slow, there is no rush. We cruised at around 68 MPH on the highway. Light breezes filled the air, but the Hensley hitch kept the Airstream right in line with the truck without any swaying.
The initial move into Charlie
We parked Charlie right outside of our Tucson home to make loading much easier. By the time we got back to Tucson, it was already late afternoon and we were all pretty exhausted, so we called it a night and picked up some dinner. The three of us ate in the Airstream while our dogs sniffed around the place and explored the new digs.
We began moving into Charlie Friday morning. We started with our clothes. I was the mover and my wife the organizer (as it should be!).  I grabbed handfuls of clothes and other things that we knew we wanted from the house and trucked them outside and into the Airstream where my wife would find a place for them.
Her ability to fold clothes into the smallest little units of material is downright amazing. Even in small cubbies, jeans, shorts, and other items fit comfortably. I had to show my dad.
To my wife's credit, she would ask me where I think stuff should go so I felt more involved in this process. As per my personality, I responded to almost every question with "I don't really care". So long as I know where everything is, I didn't have a lot of preference regarding item placement.
I am still learning where everything is. I think I now have the silverware down, as well as our Tervis Tumbler cups and plastic plates. We re-used much of our silverware but decided to downsize our knife rack with a couple of individual knives procured at Bed Bath & Beyond.
Even in our little 200 sqft Airstream, everything has a place and nothing sits out. All of our kitchenware rests comfortably in our drawers.  Teapot on the stove. Trash under the sink, pots and pans in a cabinet over the stove. For now, my office rests atop the main dining room table.
Speaking of pots and pans, cast iron rocks. We asked for (and received) a couple of heavy duty cast iron skillets for Christmas and they are GREAT (these ones, from Amazon). They heat up easily, cook evenly and clean smoothly. Though not cheap, these skillets will last us for many, many years.
The magic of living small? It took us just a couple of hours to completely move into our new home.
Moving Charlie to our in-town camp site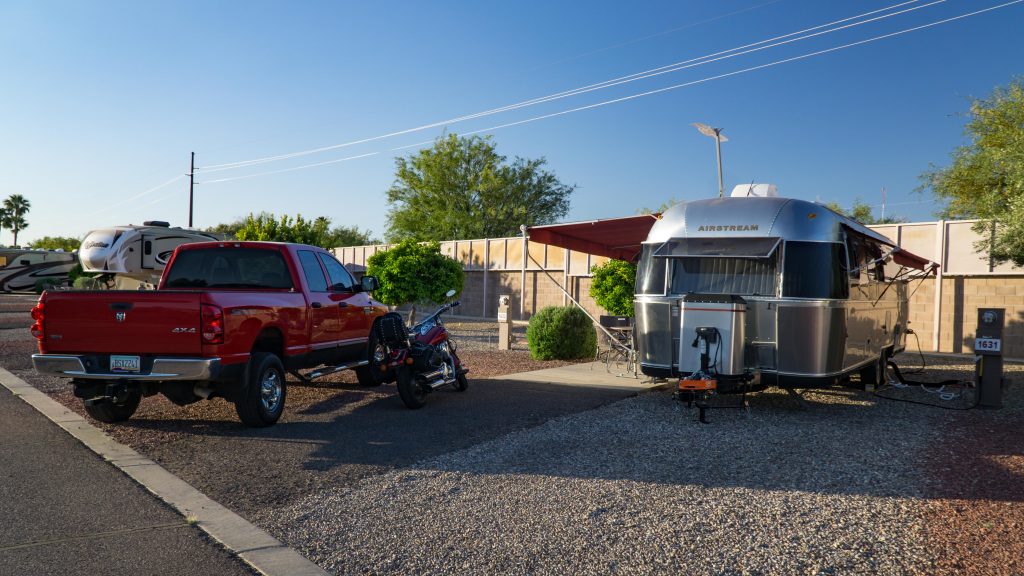 After the load was complete, we drove over to our new campsite at a local campground here in Tucson, AZ where we will probably stay for the remainder of the year. In Arizona, April is the beginning of the "low season" due to the looming heat, so we got our pick of sites. I drove in, registered at the front desk, and then proceeded along my way to our site.
First order of business was to back into our site. Driving in reverse with a huge trailer behind your truck takes practice. My wife stood in mirror shot and directed me backwards, pointing in one direction or the other as I slowly crept back. The trick is to avoid clipping objects around the front of the truck while maintaining focus on what's going on behind.
No, I didn't hit anything.
But it did take me a few tries to get the trailer completely straight in our spot. My first attempt was a little off angle, so I pulled forward a bit and tried to straighten the trailer out, cranking the wheel in the opposite direction of where you want the back end of the trailer to go. It's a mental chess game!
After a few tries, we got it. I slammed the E-brake on the truck and hopped out of the truck to inspect my handy work. After my moment of self-aggrandizement had passed, we released the hitch and I parked the truck next to the Airstream.
Now, the setup begins.
We don't yet have our setup and teardown checklists developed, but we will shortly.
First step is to level and stabilize the trailer. A leveler gauge on the front of the Airstream helps us to determine how level Charlie is from front to back as well as side to side. The tongue jack at the front adjusts the trailer's front-to-back level and uses a little motor to raise and lower the tongue shoe (also called a "foot"). If the trailer is higher in front, lower the jack. If higher in the back, raise the jack.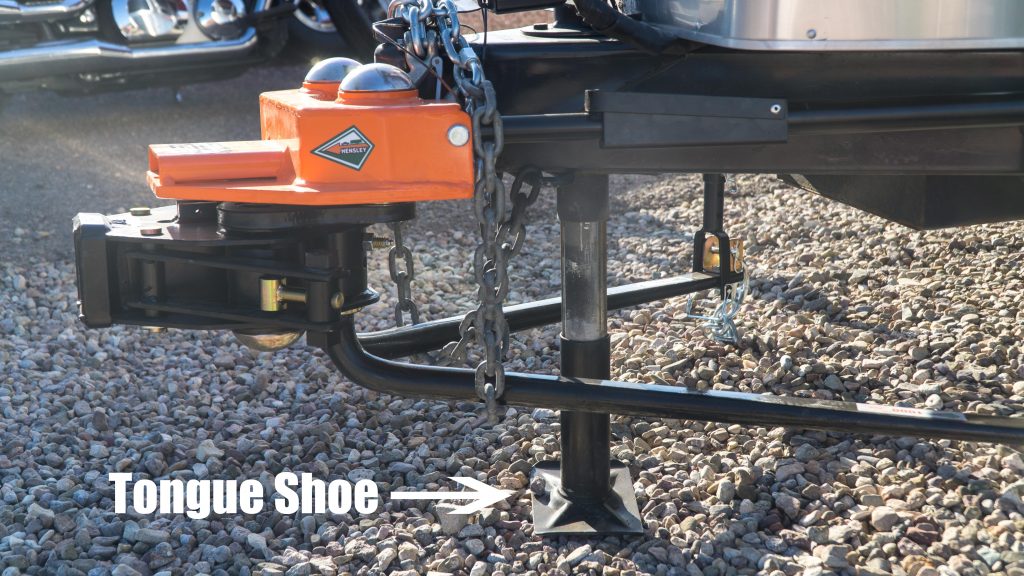 From side to side, our trailer was already level. But had it not been, leveling a trailer from side to side requires placing "leveling blocks" under the wheels, as appropriate. If the left side is a little lower than the right, for example, place a couple leveling blocks behind the left tire, then back the trailer up so the left tire sits atop these blocks.
Repeat this process with additional blocks until the trailer is completely level.
In the wild, we will go through this process because the ground probably won't be exactly level, but in established campgrounds like the one that we are staying in, each site is already pretty level.
The last step includes lowering four stabilizing jacks to the ground on all four corners of the trailer. These jacks give the trailer more stability and prevent wobbling as people walk within the trailer. Many trailers require the owner to manually rotate these jacks downward to make contact with the ground, but ours happen to be motorized on our Airstream.  A simple switch lowers the jacks.

Note: As most RVers will tell you, these stabilizing jacks are NOT designed to level the trailer. Use leveling blocks for that. These jacks are designed to provide stabilization and should not take the entire weight of the trailer.
Once the trailer is completely level, connecting Charlie up to shore power was next, which provides full electricity to the trailer like any traditional home. Then, we screwed on the fresh water hose to give Charlie water for sinks and the shower. The sewer hose was last because we needed to locate and purchase an adaptor to make the hose we bought fit onto the gray/black water drain pipe on the trailer.
And finally, the awnings for shade. This Airstream has two awnings along the "street side" (pictured below), a single awning in back and then a larger porch awning on the curb side. The large awning takes some finessing when working with it, but with a little practice this will become second nature.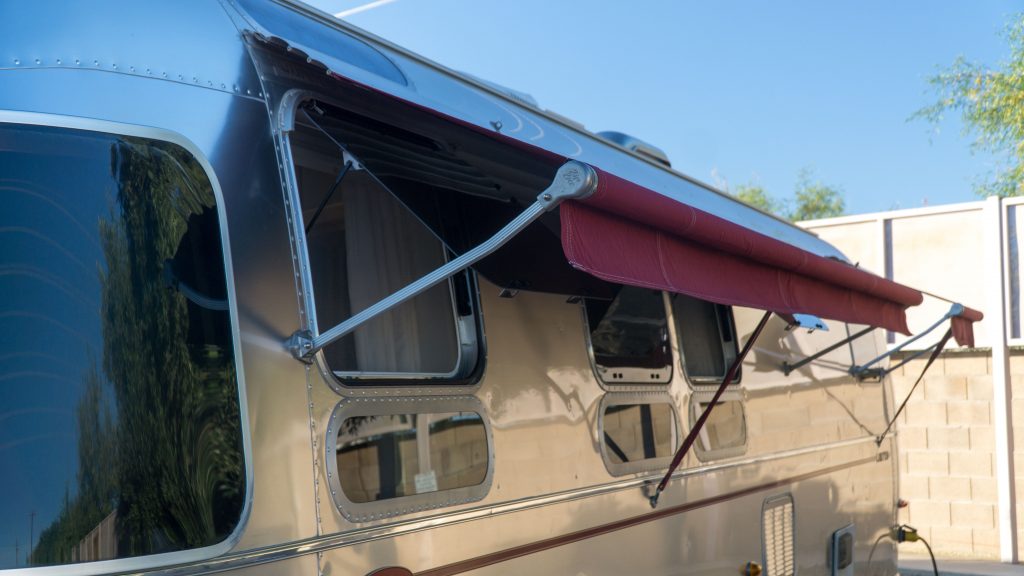 After about 20 minutes of setup (minus the time it took to locate our sewer hose adaptor), we're all set to go. We're camping with Charlie for the rest of the year in our site!
Stay tuned next week when I write about our first night in Charlie and how we are getting this place set up just the way we like it. We are still learning this new lifestyle and it will take some trial and error, but so far we are thoroughly enjoying this new lifestyle.
Living small confirmed our suspicions that we don't need a lot of space to feel happy and satisfied, even with two dogs.
Also: Read my wife's take on our move into our Airstream over on her blog, A Streamin' Life!
S
Steve Adcock
Steves a 38-year-old early retiree who writes about the intersection of happiness and financial independence.