Hey gang! So when we bought the Airstream, I promised to give you an honest assessment of how we like it, not just a glorified "we rock and big homes suck" picture that assumes every day is a vacation. Because, well, it isn't.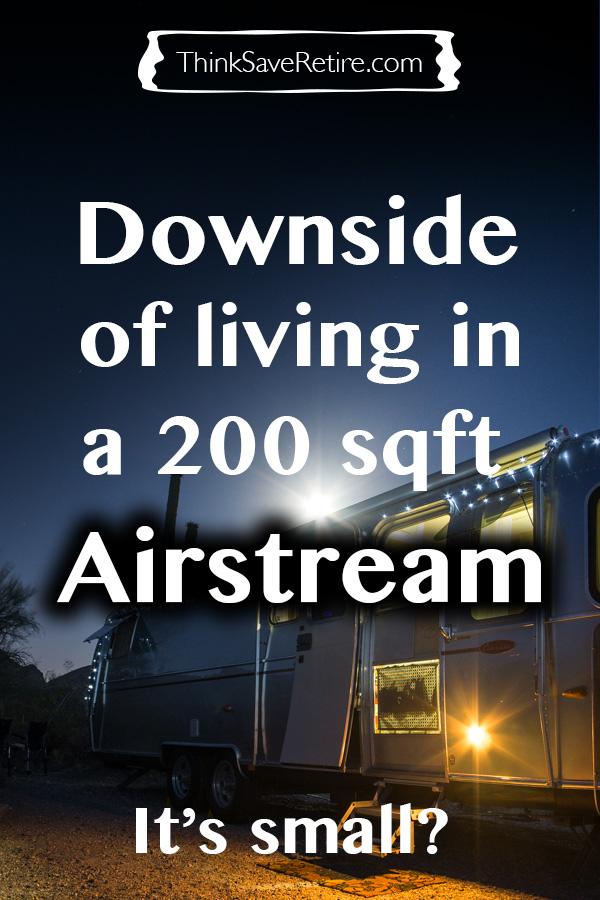 I've said before that our downsize from a 1600 sqft house into our 200 sqft Airstream "Charlie" was a success, and it was. We honestly love living here. We love the campground life. We love our evening walks around the grounds and looking at all the RVs and saying "hi" to everybody who we pass.
But with anything in life, there will be…the downside – the honest-to-goodness straight-shootin' look at both things that we like as well as the things that we don't. In this post, I discuss the things that I don't like about living in a space this small.
Things I don't like about living in our Airstream
Believe it or not, the thing I hate the most is headroom when working in the kitchen. Both my wife and I have banged our heads against the upper cabinets more time than we can count. I'm truly surprised that we didn't give ourselves a black eye after we first moved in.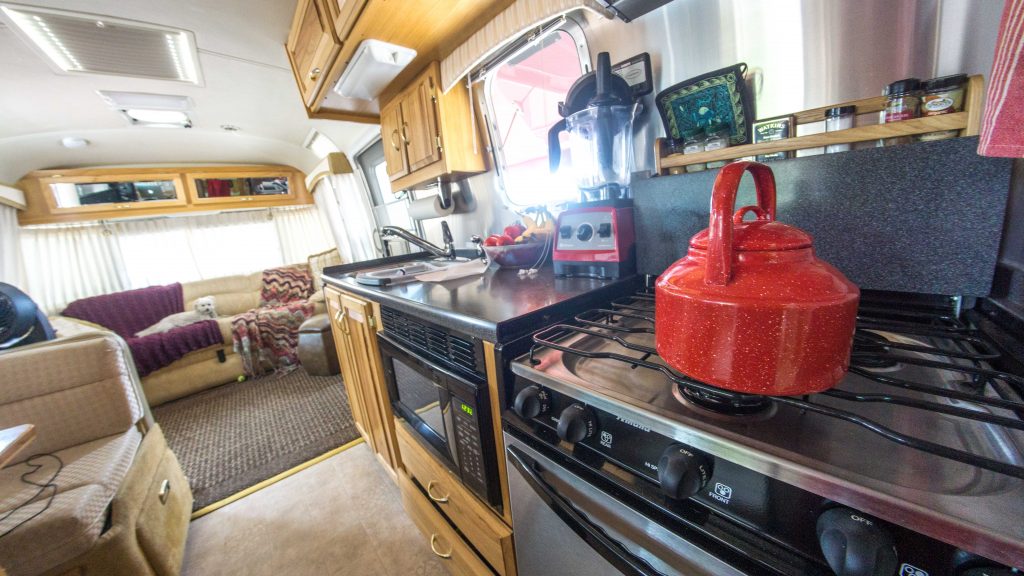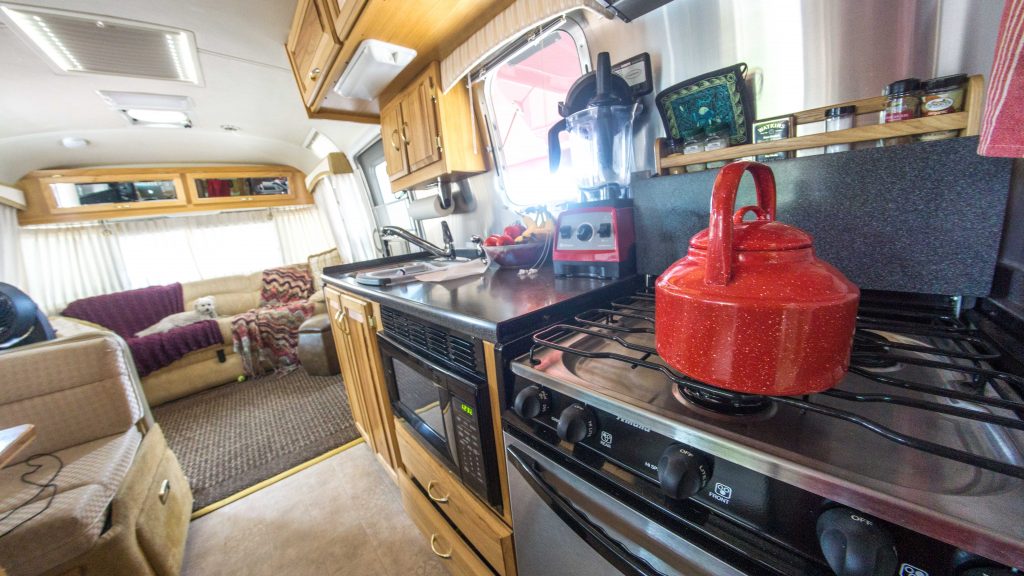 We are getting used to it, but it's something that we painfully remember is a problem every now and again.
I am also not a fan of my workspace in the Airstream, which is the nook at the moment. While we have plans to gut the nook area and replace it with a much more functional desk for our computer equipment, right now we're rockin' the traditional nook and seating area that I've had to occupy as my full-time desk and "office". It works, but far from ideal.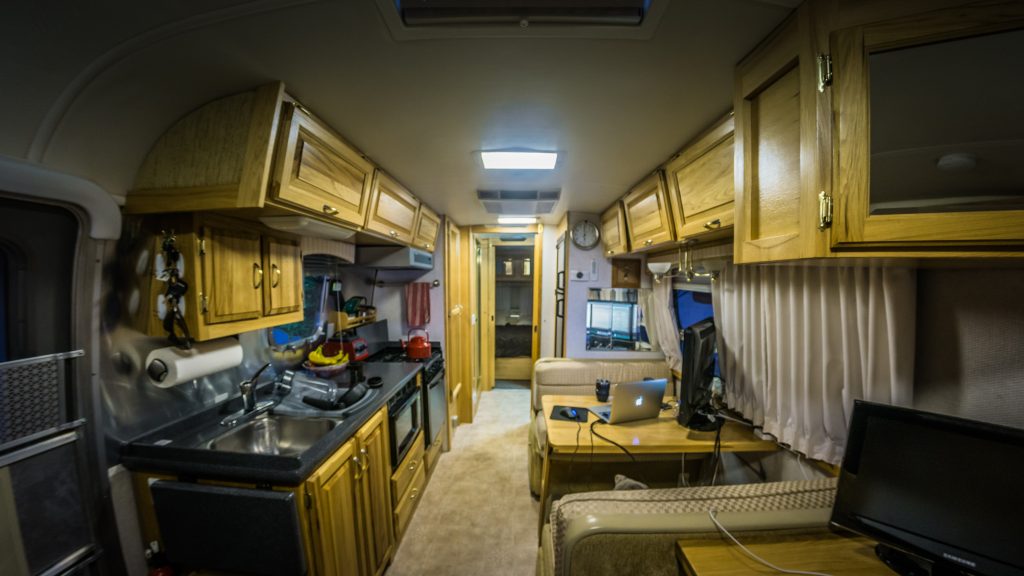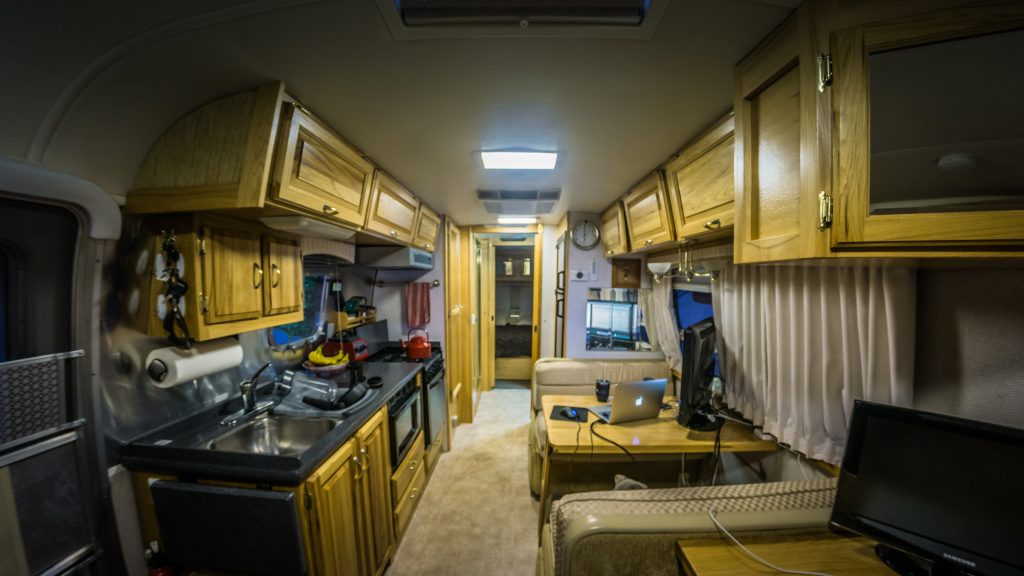 Next, there is very little external storage, which is both good and bad. Naturally, recreational vehicles cannot offer the same storage space that a traditional "sticks 'n bricks" house can. But Airstreams are even worse. While 99% of Airstreams don't have slideouts (which we like), they also don't have "basement" storage compartments like larger motorhomes do. These compartments are only accessible via the outside of the RV and offer a relatively large space to store stuff.
We don't have that luxury. We do have one externally-accessible storage area in the very back of the Airstream that also happens to be accessible by lifting up on the bed. Of course, this area is packed full of stuff, like my tripod, our winter clothes, extra toilet paper and paper towels, luggage, dog food and other larger items. It is also our main bulk-item storage area.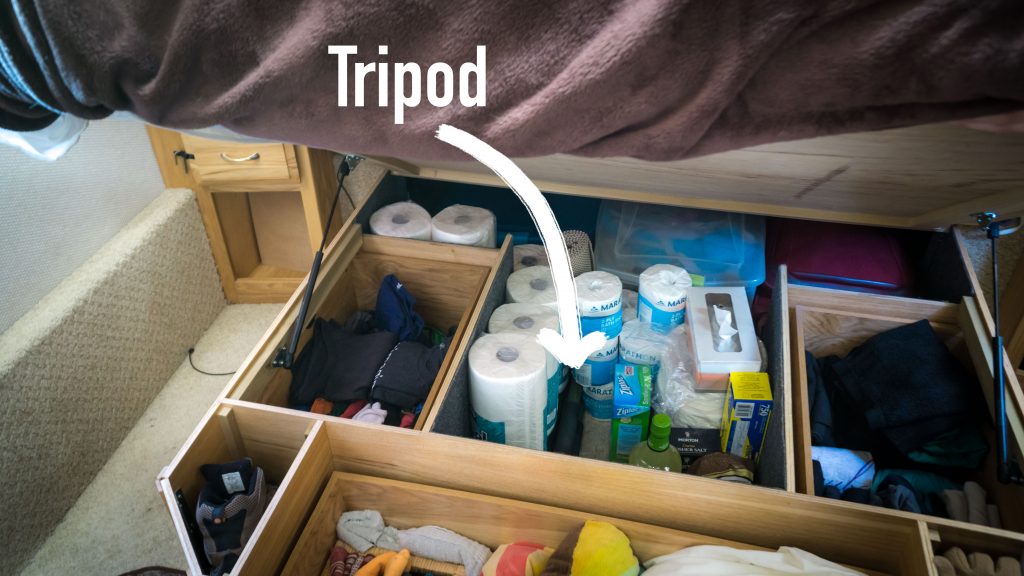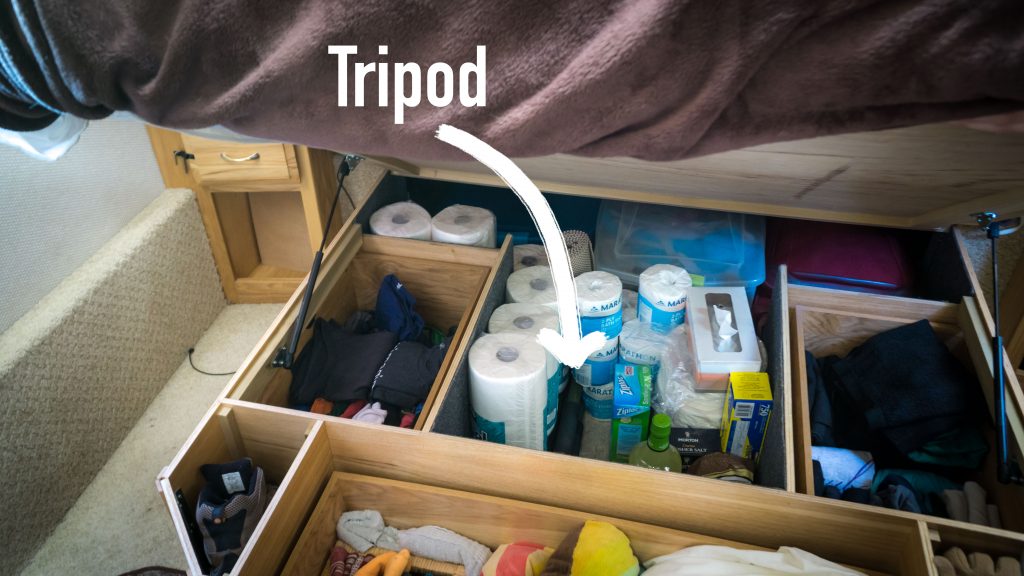 The good thing about our relative lack of storage is, well, we cannot accumulate stuff! We just gave ourselves an excellent reason to completely transform the way our family does gift-giving – at least to us. We aren't yet as bad ass as Our Next Life, who convinced their family to adopt a "No Spend Christmas", but we have at least found a way to stop the gift-giving madness in our direction.
There are no laundry facilities in this Airstream. Many larger motorhomes and 5th wheels do have small areas for 2-in-1 washers and dryers, but there isn't nearly enough space in our 30′ Airstream for that. This means we gotta do the laundry in laundromats. We also get a little more creative with how many times we wear clothes…it may sound disgusting, but stick with me for a second.
Of course, we never wear clothes that truly need washing. We have a little transportable hamper in our main closet where we throw the clothes that can't be worn again. But yes, I do often give my clothes the "sniff test" and, if they still smell minty fresh, I am not opposed to re-wearing those items. And to my surprise, a hell of a lot more articles of clothing are minty fresh enough for another round!
Lastly, I miss my king sized bed. I'm not a big fella – 6-foot even, about 200 pounds, but I still enjoy a little space to move around in bed. Without slideouts, there's no bloody way a king bed would fit in the Airstream, so we sleep in a queen. Can anyone say "first world problems"?
And before wrapping up the post, a quick note about the black water – yes, the black water tank holds the poop water. Water, along with any contents contained within, gets flushed from the toilet and held in the black water tank underneath the Airstream. Naturally, this tank requires emptying every week or so, and many consider it to be a "shitty job", literally.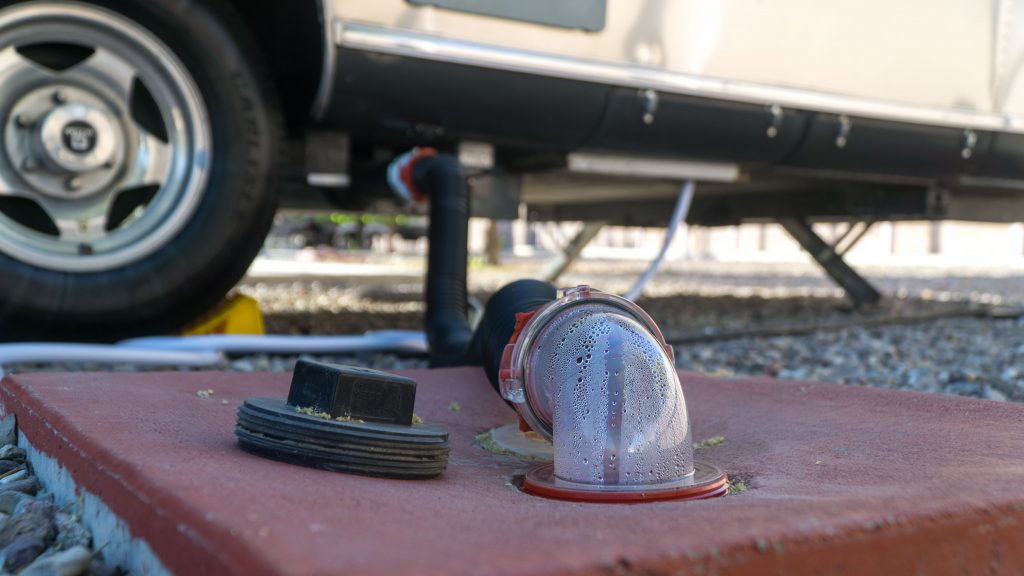 But honestly, it's really no sweat. In fact, I don't even need to move or touch the sewer hose at all during this process. All I do is pull the black water tank release handle and watch that beautiful brown poop water drain out of the tank, through the sewer hose and into the sewer. Then, I connect the fresh water hose (a regular garden hose) up to the "black water rinse" receiver line and wash out the black tank, as well as the sewer hose itself, with fresh H2O. When complete, I push the release handle back in and go on about my business.
I don't even need to wear gloves during this procedure. Hardly any smell emanates from the hose or sewer system. Though I felt compelled to mention this process, it is NOT one of my dislikes, actually. It's all a part of the process of living in an RV that has toilet facilities.
And that's it! Luckily, everything I've mentioned isn't life or death. It's just something that we get used to as a part of this major lifestyle change that we decided to pursue. When you want to change your backyard every couple of weeks – like we do, this is a darn great way to do it!
Steve is a 38-year-old early retiree who writes about the intersection of happiness and financial independence. Steve is a regular contributor to MarketWatch, CNBC, and The Ladders. He lives full-time in his 30′ Airstream Classic and travels the country with his wife Courtney and two rescued dogs.