I'm speaking at the Master Your Money Summit - Join in!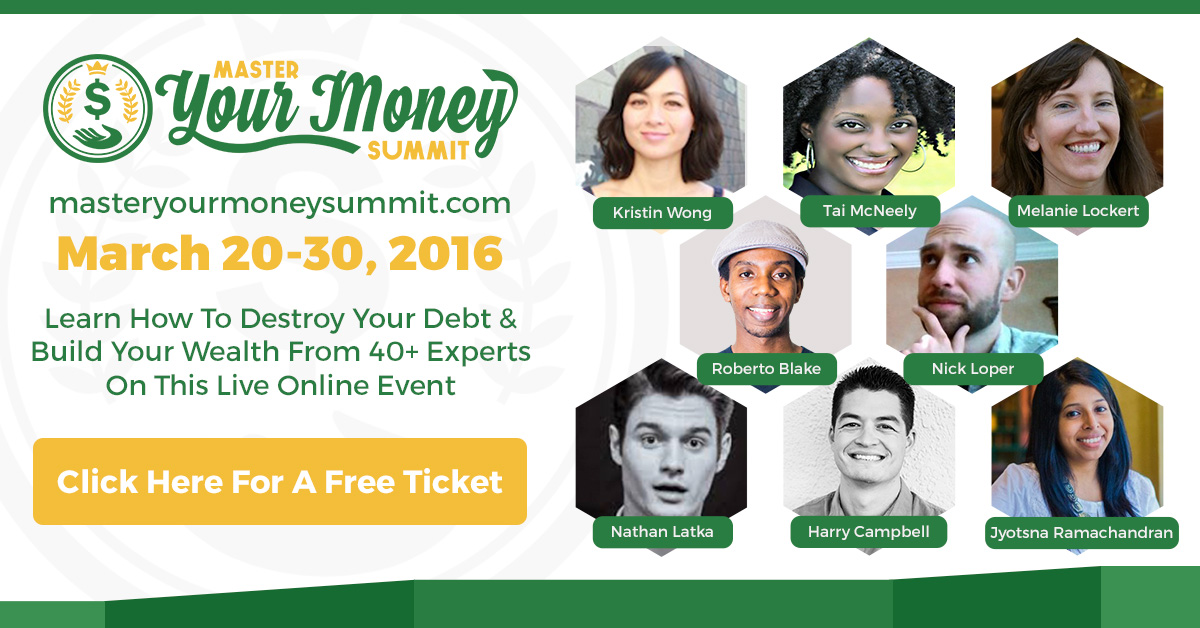 I don't usually do this, but I'm a little excited. I recorded an hour-long interview with author and financial wizard Hahna Kane Latonick for the Master Your Money Summit, where a bunch of us from the community talk about destroying debt, building wealth and retiring early.
Over 40 personal finance experts and entrepreneurs will be speaking.
Big names like Danny Iny, Nathan Latka, Rob Scott, Melanie Lockert, Caitlin Pyle, Nick Loper, Club Thrifty, Chris Peach, Kristin Wong, Jim Dahle, Mr. 1500, Steve Adcock (<- Hey, that's me!), Talaat and Tai McNeely, Rob Cubbon, JL Collins, Robert Farrington, Rosemarie Groner, Scott Trench, Andy Dew, Roger Deveau, Harry Campbell, and more!
And since I am participating in the event as a speaker, I get to give out free tickets. This event is completely online, so don't worry - no airfare or hotels required for this one.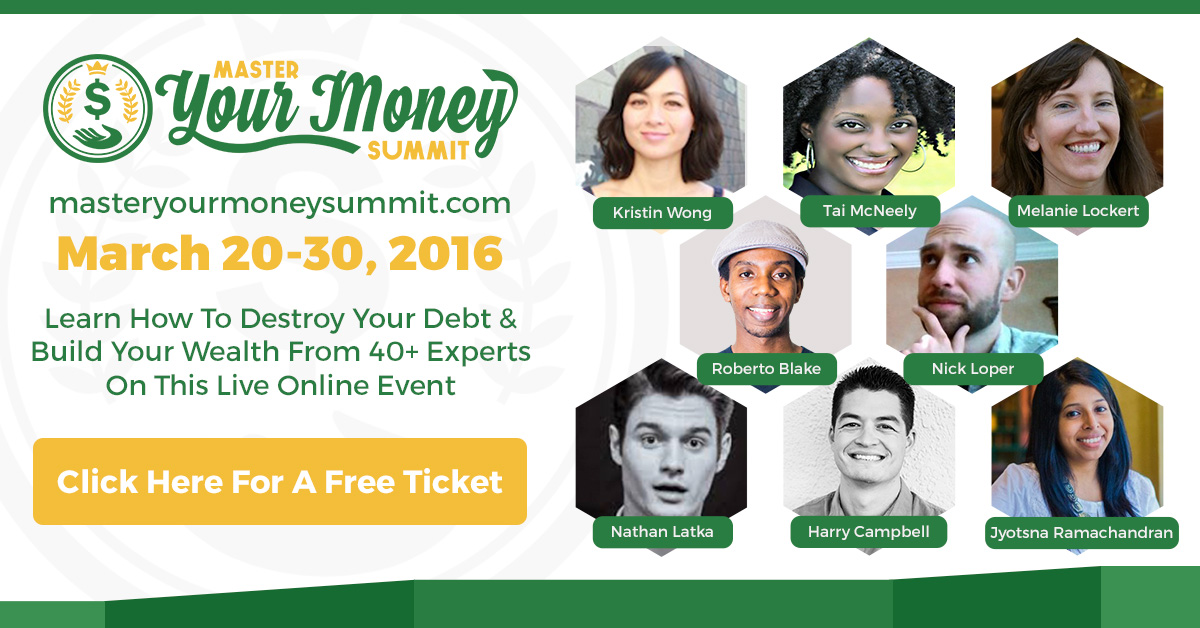 And the event's broken down into 3 phases, so it's easy to put to use. Here's just a few of the speakers' presentations (I am in Phase 3):
Phase 1: Destroy Your Debt
Melanie Lockert of Dear Debt: How to Destroy $81K in Student Loans in 5 Years or Less
Robert Farrington of The College Investor: Eliminate Your Student Loans Once and For All
Chris Peach of Money Peach: Why Your Car Payments Suck (and what to do about them)
Derek Sall of Life and My Finances: Destroy Your Mortgage Debt Sooner Rather Than Later
Martin Dasko of Studenomics: Conquer Your Credit Before It Conquers You
Avery Breyer of Smart Money Blueprint: Raise Your Credit Score, Move into Financial First Class
Phase 2: Build Your Wealth
Rob Scott of Fundamental Shift: Master Your Money and Wealth with These 3 Essential Steps
Nick Loper of Side Hustle Nation: The 5 Fastest Ways To Make Money
Talaat and Tai McNeely of His and Her Money: Money + Relationships: Stop Arguing and Start Talking About Money
Greg and Holly Johnson of Club Thrifty: Create A Budget That Actually Works (and that you can actually keep)
Danny Iny of Mirasee: Build Your Wealth by Creating Online Courses
Nathan Latka of The Top: How Nathan Sold $4.5M on Webinars at 22 Years Old with No Ad Budget
Rosemarie Groner of The Busy Budgeter: How A Stay-At-Home Mom Brings in Over $9K/month by Blogging
Naresh Vissa of Krish Media and Marketing: Build Your Wealth by Podcasting Your Way To Millions
Roberto Blake of Roberto Blake Studio: Create, Promote and Monetize Your YouTube Channel
Harry Campbell of The Rideshare Guy: Earn Money On The Side As A RideShare Driver
Caitlin Pyle of Proofread Anywhere: How Caitlin Earned Over $700K In One Year By Monetizing Her Genius
Steve Windsor of Vixen Ink: How A Stay-At-Home Dad Hustles By Self-Publishing on Amazon
Phue Vanchiasong of FuDog Garden: Build A Product in 24 Hours and Make 9 Sales and Over $4,500
Cathryn Lavery of Best Self Co: Crowdfund Your Idea on Kickstarter and Make $15K in 28 Hours and Grow to $323K
Andy Dew of It's Dewable: Earn A 5-Figure Income Each Month Selling Physical Products On Amazon While Traveling The World
James Collins of The Stock Series: Investing Made Easy and the Simple Path to Wealth
Jim Dahle of The White Coat Investor: Get Your "Fair Shake" of Wall Street and Become A Millionaire By 40
Andrew Fiebert of Listen Money Matters: Build An Optimal Investment Portfolio using Robo Advisors Like Betterment
Scott Trench of BiggerPockets: Achieve Financial Freedom Through Real Estate Investing
Phase 3: Financial Independence
Connor of Early Retirement Actuary: Achieve Early Retirement by 30
Matt of The Resume Gap: Achieve Financial Independence In Your 20s
Carl of Mr. 1500: Achieve Early Retirement in your 40s
Steve Adcock of Think, Save, Retire: Achieve Early Retirement in your 30s
Jeremy of Go Curry Cracker!: Tax Optimization and Turbo Charged Savings to Achieve Early Retirement Faster
Navid Moazzez of Virtual Summit Mastery: Generate 6 Figures, Escape The 9 to 5, and Move Abroad in less than 6 Months
Get your free ticket now...you know you want to!  :)