We live in an RV, not under a bridge!
After hearing that my wife and I live in an RV, most people are like: "Oh, so you guys must eat out a lot then, right?" Umm, no. Why do you ask?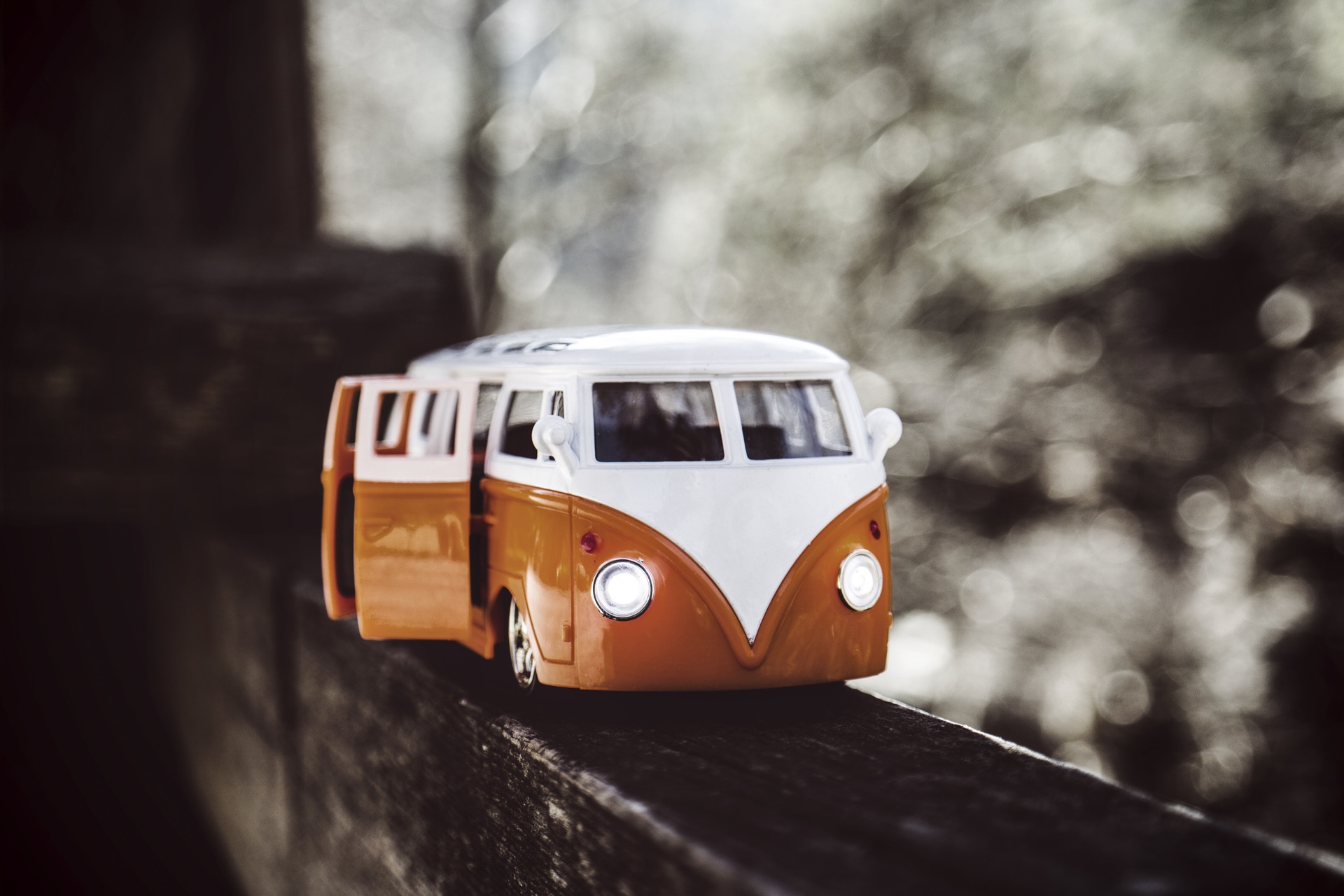 One of the most common questions that we get asked after spilling the beans about living full-time in our Airstream goes something like this: "Oh, so you guys must eat out a lot then, right?" And our answer is always the same.
"Umm...no. Why do you ask?"
"You probably don't have much of a kitchen, right?"
"Why yes we do! But, that's only because we live in an RV, not under a bridge somewhere."
It's like...what the hell?
RVs have all the modern amenities
Modern amenities are wonderful things. The conveniences that microwaves and ranges bring are simply amazing. And even cooler yet? You don't need to live in a traditional "sticks and bricks" home to enjoy them. Even we, in our little 200 square foot abode, have a fully functional kitchen.
You know, like a sink. And an oven. Even a refrigerator. To many people's surprise, all these items fit in an RV as well. The only difference is they are just a bit smaller than the traditional residential versions of these very same items. Our kitchen probably has everything that your kitchen has.
First world conveniences in a traveling home. How nifty! And we probably go out to eat once or twice a month.  :)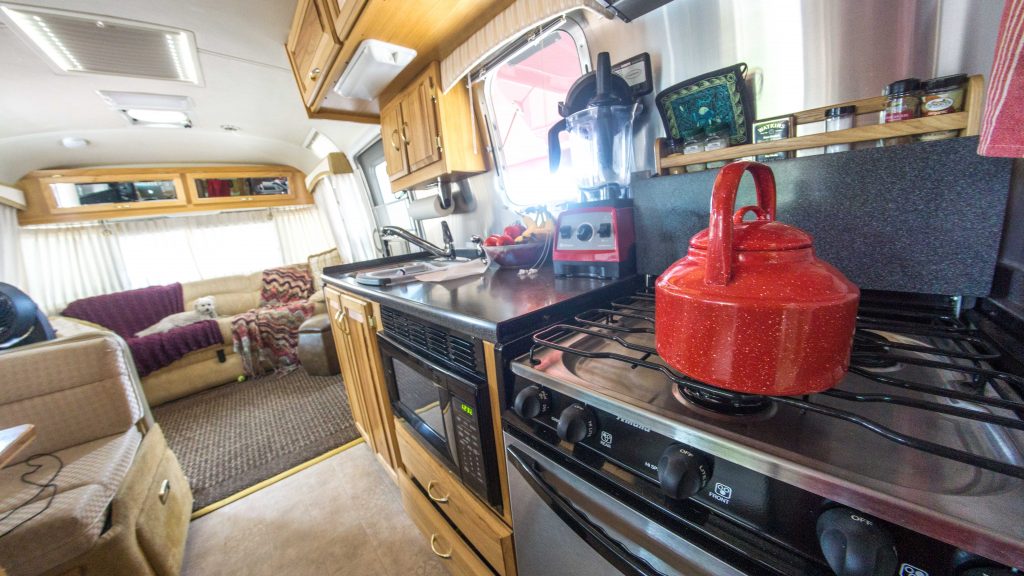 We have a toilet, too. In fact, we replaced the traditional flushing toilet with a composting toilet, so it's much more eco-friendly and, quite frankly, it smells much, much better than the normal toilet that this Airstream came with. Check out the video we put together of the install process below.
Queen sized bed. A shower. A bathroom sink. And lots and lots of windows. Basically, we have it all - only on a slightly smaller scale. Our solar panels that we just had installed will give us the ability to camp out in the middle of nowhere without any connectivity to the real world.
A disconnection from reality? Yeah, that seems like something we'd enjoy.
These RVs are freaking amazing machines. In our campground, there are RVs as small as a $1500 mini travel trailer and as large as million-dollar condominiums on wheels (otherwise known as the "Prevost"). Many RVs have washers and dryers. Corian (or even Granite) countertops. King-sized beds. Slide-outs for additional space (extra points for opposing slide-outs). Automatic powered window shades.
But that's not all. Many RVs have touch screen "command centers" for all the electronics. Cedar-lined walk-in closets and walnut cabinets. Elaborate entertainment systems. Tile floors. Marble tables.
Remember that just because someone lives in an RV doesn't mean they are "roughing it" in any way.
RVers aren't necessarily minimalists, either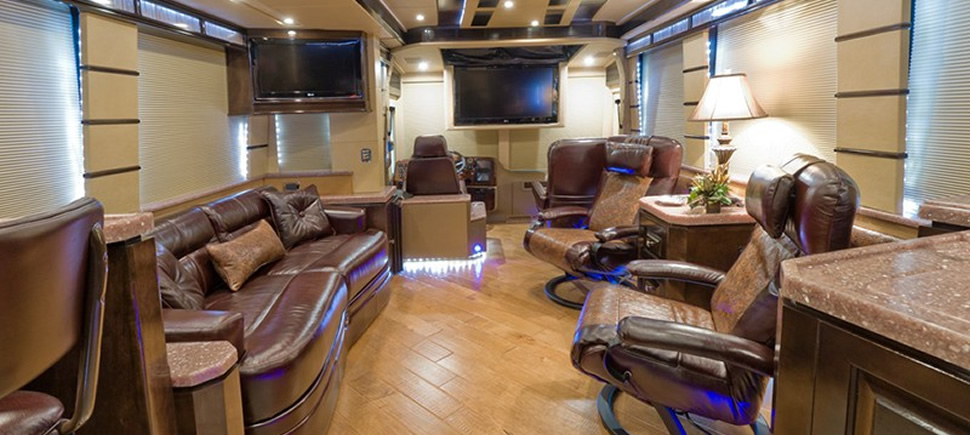 Some of these RVs have seriously top of the line shit.  In fact, many of these huge motorhomes that I walk our dogs past everyday are easily nicer than any home that I've ever lived in. No comparison.
Glitsy finishes. Elaborate designs carved right into the ceiling. Textured walls and leather furniture.
I've seen 45-foot motorhomes towing another 20-foot trailer full of toys (motorcycles, ATVs, etc). That's around 65-feet of complete non-minimalism. 70-inch TVs. Satellite television with access to hundreds of stations. Computers. Monitors. Almost anything that you can think of can fit into an RV - if it's important enough to you. This is about prioritization, not necessarily sacrifice.
Just because someone lives in an RV doesn't mean they are a minimalist.
RVers have simply chosen another way to live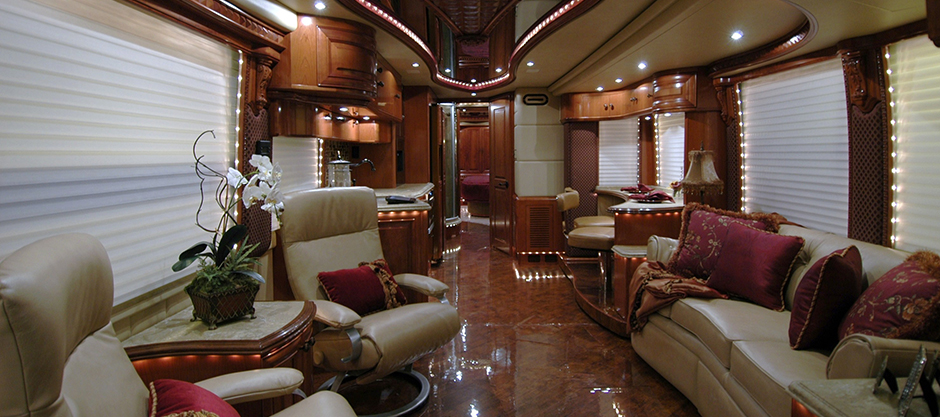 It is natural to make assumptions when you hear about how some people live their lives. We all do it, including me. RVs come in all shapes and sizes. Some are ridiculously nice while others are literally falling apart at the seams. Both rich people as well as poor people live in these things. Some do it to minimize expenses while others do it for a more simple life, or to travel.
There are so many different ways to own an RV, much less actually live in one.
For us, it's about a simpler and less expensive way of life. Instead of paying multiple utility companies, we only pay a single bill that goes straight to the campground - when we actually stay in one. Otherwise, it's nothing more than the cost of propane to keep our fridge going and catalytic heater on during the winter.
Wait, we have heat, too?!?
Yup, we got heat in here. Like, real heat. We just bought a little 6000 BTU catalytic heater that heats up the entire place while using a fraction of the propane (and 12v power) that our furnace uses. We stay toasty warm at night - now that we have this stuff figured out.
That's right, we have a furnace. Oh, and a heat pump if we're connected to 120v shore power, too.
Almost 9 million households own an RV
That's right, 9 million. The average age of the RV owner is just shy of 50, which definitely puts my wife and I on the younger end of RV ownership (yup, we are the "youngins"!). Interestingly, the average salary of an RV owner is $62,000 - higher than the average household income in the United States, which is just north of $55,000 (Wikipedia).
How many of you out there own an RV? Could you live in one full-time?