Our amazing world: Last night's halo
I went out into the backyard with my dog to check things out - again, nothing.
Allow me a moment to divert completely away from the topic of financial independence a minute and talk about what an amazing natural world that we live in.  Last night, one of our dogs - that RARELY barks unless something is truly wrong - started barking by the back door.  Naturally, my wife and I responded, but there seemed to be nothing there.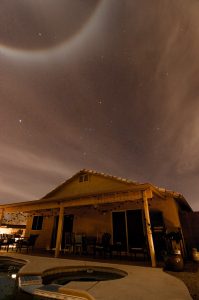 I went out into the backyard with my dog to check things out - again, nothing.  I suppose it was a false alarm.  But, just as I was about to call it a night and return to our comfy couch, I looked up and saw something amazing.  It was one of the biggest, brightest and beautiful halos around the moon that I've ever had the privilege of witnessing.
Of course, the photography side of me quickly kicked in and I ran inside to grab my Nikon digital camera, a wide-angle lens and a tripod.  I started shooting 30-second exposures and literally hoped for the best.  Even in the pitch black (minus a few ground lights here and there), it is amazing the detail that can be picked out of the darkness with long exposures.
I remembered something last night, too.  Our natural world, when we take a minute to observe it, is just amazing.
And if it wasn't for our dog who was seemingly barking at nothing, I probably would have completely missed this beautiful sight as my attention was entirely focused, perhaps ironically, on writing another article for this very blog.
But, some things in nature deserve our attention.  The article can wait.  Halos like this don't happen very often, and I'm glad that I got to witness it.