Blogging
Reflecting on 2014 - The year that changed my life
2014 has been one hell of a year, and my happiness level has never been higher. I'm happy. I'm healthy. I am on the path towards financial independence and retirement by 40. Thanks 2014, you rock.
Yesterday, I wrote about my yearly ritual of reflecting on what I did right, what I could have done better, and what truly made me happy over the past year.  2014 has been one hell of a year, and my happiness level has never been higher.  I'm happy.  I'm healthy.  I am on the path towards financial independence and retirement by 40.  Thanks 2014, you rock.
In the beginning of 2014
The year started like any other year.  I had met my [then] beautiful girlfriend in late 2013 and we were spending time with each other regularly.  I was blissfully living in Tucson's southern suburbs and commuting into work - about 30 minutes each way - daily.  At the time, I was the Director of Information Technology at a not-for-profit medical certification board.  I was living out my life the way I thought it needed to be lived according to conventional wisdom.
This was before I began reaching towards financial independence aggressively.  I spent a good amount of money on my hobbies (which included a [now sold] 1999 supercharged Corvette convertible) and rarely blinked an eye when paying off my monthly service bills for things like satellite television, high speed Internet service or expensive web hosting for a big collection of web sites that I used to run.
I knew about the importance of saving cash, and I always contributed regularly to my 401k at work, but I largely ignored my future self.  Retire by 40?  It was a thought that never entered my mind.  My dad retired by 49, so I knew it was possible to retire early.  But me?  I had never considered the possibility.  Single and living in the suburbs, it was not one of my priorities at the time.
Quickly, this year turned out to be very different than any other year.  I was out of that nothing could touch me phase in my 20s and finally starting to realize that while I thought that I was having fun now, my future self is going to hate me for it.  Something happened that made me finally realize that all the money that I was spending on my hobbies isn't helping me be truly successful in life.
In my 20s, my hobbies legitimately made me happy.  Now, my hobbies have morphed into just something that I do, often mindlessly.  Another grand on new wheels for the car?  Sure, it's my baby.  One more $50/month virtual private server (VPS) for a small web site?  Why not.  After all, web stuff is just what I do.
What happened that finally made me realize that what I was doing isn't productive?  Let me answer that by discussing what turned out right, what I could have done better and what made me happy in 2014.
What turned out right
To say that 2014 has been life changing is a huge understatement.  At year's end, I am a completely different person than I was at the beginning.  I am a married man, a landlord with a new work-from-home job and a goal of financial independence in less than 10 years.  Yup, I want out of this rat race.
Phew, talk about some serious changes this year.  So many things turned out right in my life based on the decisions that I made and the opportunities that I grabbed with both hands.  Let's discuss!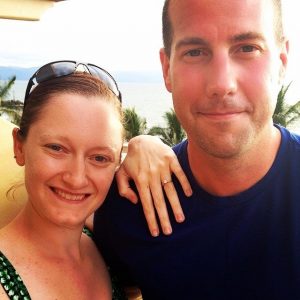 I am a married man.  My beautiful and loving wife, Courtney, accepted my marriage proposal on a vacation in Mexico on a windy evening out at the end of a pier.  A true rocket scientist, she is far smarter than I am.  She is one of those speed readers, too - she's already at the bottom of the page before I finally navigate my way down to the second paragraph.  It's actually fun to watch.
She is immensely supportive of our transition from a typical American family that spends well over half of our salary to a couple who saves just that much.  In fact, her wizardry with numbers and ability to whip through equations faster than I could blink an eye has helped solidify our retire by 40 plan and bring some realism into our goal to achieve financial independence.
She has been crucial to this goal. In fact, she will be putting together and publishing our monthly income/expenses posts beginning in 2015.
A comfortably married man who has found his match in life, check.
I am renting out a home.  Truthfully, I never saw myself as a landlord, but a perfect opportunity presented itself to me after I married my wife and moved in with her.  My home in the Tucson suburbs could either be sold or rented for some passive income.  After a couple months of weighing the options, my wife and I decided to try our hands at renting.
I was not exactly the neatest person in the world, and several weekend days were spent whipping the house back into shape.  Cleaning the walls and covering all the scuff marks, fixing the bathroom towel rod, changing out light bulbs, cutting back trees in the front yard - it's amazing how much that you're willing to live with when it's your home.  But the moment you decide to rent the house out, it needs to look like a bunch of monkeys weren't living there for the past 6 years.  It wasn't easy, but we finally finished fixing the place up.
A 2-year contract fell into my lap.  Wow, that was easy.  The couple who I am renting to are very nice people and reasonable to work with (the guy likes house maintenance and I've been very willing to let him shore up some small things here and there).  I gave them a break on their rent last month as a thank you.
Passive income, check.
I work from home.  I made the decision to quit my well-paying Director of Information Technology job, which included a 30-minute commute, and instead take a work-from-home job that allows me much more freedom during the day.  I am no longer confined to an office or regular 9 to 5 (or, in my case, 6:30 to 4) hours like before.
I save over $30 a week in gas, not to mention the stress of driving through traffic during rush hour (yes, even Tucson has a rush hour, exacerbated by our city's grid system complete with intersections and stop lights every couple hundred yards).  I do my job, I do it well, and then move on to some of my personal projects - like maintaining ThinkSaveRetire.com, without wasting time in a car.
No commute and a job that I can do from anywhere, check.
Financial independence in 10 years.  Strangely enough, the tipping point that finally lead me over the edge of spending money was a fairly large maintenance expense on my [now sold] Corvette.  The car was 14 years old and the bill to keep the thing on the road was continuing to rise.  One day I took a short drive up to the post office to throw a letter in the mail and the fuel pump died.
Stranded in the parking lot, I waited a couple hours for a tow truck to arrive and, once again, haul the car to the shop for yet another fix.  Since I moved to Tucson 7 years ago, the Corvette has been in the shop at least once a year for a fairly expensive fix to something.  I loved that car, but it was a money pit, and I had enough.  The car wasn't making me happy.
Time to sell the car.  But more than that, it was time to recoup the last 7 years of car repairs.  I wanted back all those thousands of dollars spent on keeping that car on the road.  I could easily put that money to good use, I reasoned.
The thought of recouping my losses slowly began to build.  The car was the symptom, but it wasn't the only one.  My television service.  My cell phone.  My food budget.  Wow, it wasn't just my car that was draining away my wealth.
And so it began.  Starting with the car, I finally made the decision to downsize and re-focus my attention on saving some serious money.
Focusing on true happiness out of life and escaping the rat race, check.
What I could have done better
This was the transition year between my previous self that threw caution to the wind and spent like it was going out of style and my new and improved self who is frugal and focused on financial independence.  This year, the positives definitely outweighed the negatives, but there are a couple easy ones that bear mentioning.
The Corvette. Honestly, I could have sold that Corvette much faster than I ultimately did, but the car had been with me for nearly 9 years and I wanted to make sure that I truly wanted to let it go. I did, but I should not have given myself the excuse to keep it longer than necessary.
The Honda Ridgeline.  I wish this damn truck didn't drink fuel like Niagara Falls.  I bought my 2009 Honda Ridgeline this year, but it's a very fuel inefficient car that I should not have bought.  Yes, I got a good deal on it, and yes, pickup trucks can be very convenient at times.  But when you're looking to maximize savings and rid your life of all the expensive shit that you do not need, the Ridgeline probably isn't the best vehicle to have.  It's a vice.
I need to learn to say "thanks, but no thanks".  Being the incredibly social people that we are, my wife and I have a tough time saying no when invited to things like dinners, concerts or other attractions that cost money.  Several times this year, we were invited to dinner and gladly accepted, usually paying around $50 for the meal - and that's if we happened to split it.  Worse, we feel obligated to return the favor and invite them out to yet another dinner.  I need to knock that off.  It's okay to say no.  It's okay to say no.
What made me truly happy
2014 made me grateful for the small things in this world, and I have discovered a new appreciation for the simple things that life offers.  I finally became honest with myself about where my happiness is derived, and it was not in the things that I was doing or paying for - at least most of them.
I got much more involved in my love for photography and completely renovated my photo blog over at SAADigital.com.  Photography is something that I would love to turn into full time work, and I feel spending time perfecting my photo and re-touching skills to be an investment in my future self.  Picking up my camera brings a smile to my face every time.
Fitness is incredibly important to me (and my wife).  It's makes both of us so happy that we have designed our lifestyles around our gym time.  At the end of the day, we workout for an hour and then return home to cook dinner.  We cook mostly vegan and have discovered a profound difference in the way that an absence of meat and dairy makes us feel and look.  It works for us.  It makes us grin ear to ear.
Our travel experiences always put big, fat smiles on our faces, so we made it a point to travel at least once a year.  In 2014, we traveled to Sedona, AZ (the site of our future retirement home) Puerto Vallarta, Mexico where I proposed to my wife and to Hawaii for our honeymoon.  Without a doubt, travel made us happy in 2014.
Using a variety of travel hacking skills, we made a vow this year to pick a destination each year to go to and enjoy, which allows us the opportunity to see much more of our vast country and gives me ample opportunity to expand my photo collection.  Next year, we will be traveling to Disney World for a larger family vacation, New York for a wedding and Albuquerque for the world-renowned hot air balloon festival.
Lastly, we discovered that our backyard is the perfect place to grow some amazing jalapeno peppers after planting a few seeds, and we now use them to spice up many of our dishes at night.  Fresh hot peppers, baby!
2014 was an amazing year.  I got married and kicked my ass into financial shape.  I got the passive income train started by renting my old house and committed, along with my wife, to retire within 7 years - after reaching financial independence.  I was damn happy the entire year, traveled to amazing places and scored one hell of a nice work-from-home job.
What a year.  What a life.  Hello 2015 - get ready for one wild ride.
S
Steve Adcock
Steves a 38-year-old early retiree who writes about the intersection of happiness and financial independence.