Michelle from Making Sense of Cents is living on the road in an RV, just like us. It's an awesome lifestyle, but there are certain things about this lifestyle that may not appear so obvious. Today, Michelle takes some time to lay out some interesting topics they don't tell you about living on the road.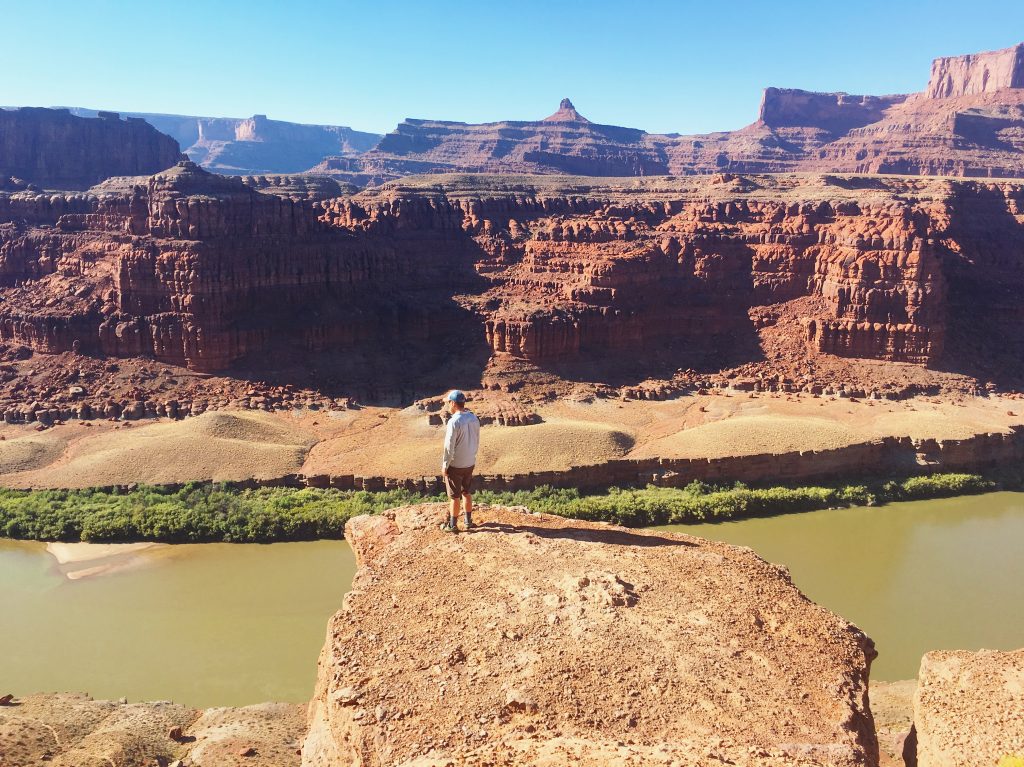 In July of 2015, me and my husband did something crazy, something that I never thought we would do.
We bought and started living in an RV.
I never thought that I would be an RVer. Even as a kid, I never thought about it once. I had never even hopped into an RV until we started looking at them.
And now, I'm having the time of my life.
When we first started looking at RVs, I didn't really know what I was getting myself into. Since we were traveling a lot and wanted to be more comfortable while bringing our dogs everywhere with us, I thought it would just be a fun way to travel part-time.
I quickly fell in love with the RV lifestyle. And, shortly after we bought our RV, we decided to RV full-time.
We sold our house, put everything in storage (we have since gotten rid of the storage unit), and left for a life on the road.
Many people think we're crazy, and living on the road may not be normal. However, I wouldn't want life to be any other way.
We've traveled to some really great places in just the year and a half that we've been RVing, such as:
The Pacific Northwest (my husband cycled 1,000 miles from Port Angeles, Washington to San Francisco, California, while I drove myself and our two dogs in our RV). We went to Mount Rainier National Park, Olympic National Park, Kalaloch and Ruby Beach, Hoh National Rainforest, La Push Beach, and many other beautiful places. This is still my favorite RV trip and I can't wait to do it again.
Utah (many times) – Arches National Park, Canyonlands National Park, Moab, and many other places.
Colorado (many times) – Rocky Mountain National Park, Black Canyon of the Gunnison National Park, Colorado National Monument, Dinosaur National Monument, and many other places.
Arizona – Saguaro National Park, Tucson, Sedona, and Phoenix.
California – We park/beach hopped along the ocean highway and that was fantastic.
Wyoming – Yellowstone National Park and Grand Tetons National Park.
Great Smoky Mountains National Park.
Living on the road is still very new to us, and we've learned a lot of things in just the short amount of time that we've been RVing. So, here's what you should know about living on the road.
RVing costs can be as high or low as you want them to be.
I've found that there are two types of people that ask questions about RVing (these are not people who RV), and surprisingly, these two types are very different.
The first type generally thinks that RVing is extremely cheap, and usually thinks that only people down on their luck would ever do it. Trust me, you'll hear a lot of Breaking Bad jokes when you live in an RV. And, no matter how nice your motorhome is, you'll hear "Your RV looks just like the one from Breaking Bad!" Why wouldn't people think that's an insult!?
The type on the other end of the spectrum tends to think that RVing is extremely expensive and that you need a trust fund and/or some great luck in order to do it.
It's funny how completely opposite people think, but it's true.
The truth is that RVing can be extremely cheap or it can be very expensive. Follow the link if you're interested in knowing how much it costs to RV, and luckily, there's a spot for pretty much everyone to make RVing a reality.
You don't need all your stuff.
When we first started RVing, we came across many other RV couples who told us that RV storage space is near non-existent and that we would have a problem storing stuff.
This is far from the truth. We have probably 30-40% of our cabinets still empty, and we can't even think of what else we could possibly store!
We're still getting rid of some of our stuff and downsizing, because we feel that we don't even need all that we have now!
Trust me, you really don't need that much stuff.
You'll have an instant connection with other RVers.
RVers are some of the nicest people that you will ever meet. We've made great friends that are both young and old, and from all backgrounds. RVing really brings everyone together!
Plus, whenever we meet new RVers, it's as though we are long lost friends. There's always an instant connection, lots of laughs after just a few moments of meeting each other, and going our separate ways (a normal thing in RV life) is always a sad time.
When we first started RVing (literally like a week in), we had a young couple knock on our door and ask us if we wanted to hang out with them for drinks that night. We had never met them before, but they said they saw us come into the campground and that they wanted to hang out.
This is completely normal when living in an RV, and it's happened to us quite a few times.
Always add a few hours to whatever the GPS says.
If your GPS says that it will take 5 hours to get somewhere, you should expect 6 or 7, or even 8 hours in order to be realistic. And, if you have a gas motorhome, you may even want to double the GPS time.
From the very first day that you hop into your RV, you'll realize that your RV is nothing like your car. It takes more time to get places, you'll need to take more breaks, and you most likely won't be able to drive as far in a day as you can in a car because of the amount of work that it takes to drive an RV.
When we would travel in just our Jeep, we could easily do 900 miles a day and be just fine. However, in an RV, we have a limit of just 250 miles a day, 300 at the most. Anymore than that and it turns into a major chore with a lot of stress.
You'll want to follow the weather.
One thing I didn't realize about RV life is how difficult it can be to RV in the cold. I always see things about people wanting to RV so that they can park at their favorite ski resort or something else along those lines, and well, that's not super realistic for the average RVer.
Sure, if you still work full-time and have to stay in one spot, then you can't really follow the weather. But, if you are traveling full-time, you'll want to follow the weather. That means you won't want anything too, too cold, because then you'll have to winterize your RV. Or, if it's too hot, there's a chance that your air conditioners won't be able to keep up.
I've experienced both sides. At just 30 degrees, which we didn't think was THAT cold, our water filter busted and cracked outside. I've heard of horror stories about water lines breaking because it got too cold in the RV even with all of the heat on. On the other end, when it was 100 degrees with high humidity, our air conditioners could barely keep our RV under 85 degrees.
Work is much more fun in an RV.
To be able to live in an RV full-time, I run an online business- Making Sense of Cents. It is a lot of fun being able to work and travel at the same time.
I thought it would be difficult at first. I thought internet would be hard to find, that I would be too distracted, and so on.
I've come to find that I'm more motivated than ever when it comes to working, and having a great view out my window each day definitely helps as well.
Your RV will always be in need of some sort of repair.
Whether your RV is brand new or old, there will most likely always be something that needs fixing or even replacing. After all, you are rumbling down the road with thousands of pounds of your home. This can make things jiggle loose, break, and so on.
Our first RV was a complete disaster and things were always broken. It spent nearly as much time in the shop as we did living in it – and it was one of the main reasons that we got rid of it and got a different RV.
And, that first one was brand new!
The tight space won't ruin your relationship (hopefully).
One of the questions I hear the most is "Do you guys get along even though you're in such a tight space?"
Yes, we do get along, and it seems like most RVers still get along with their spouses as well, haha. If we didn't get along, RVing wouldn't be fun.
Also, the second relationship-type question is "What do you do when you have Mexican food or something else spicy that night?"
Well, privacy is already out the window in an RV, so you just have to get used to using the bathroom with the other one just a few feet away.
You'll never want to live in a "normal" home again.
One thing that I've learned over the past 1.5 years is that I never want to live in a normal home again. I absolutely love living on the road in my RV, and our next adventure will be to sail full-time.
Traveling full-time is a ton of fun and I have had so many great experiences!
Are you interested in RVing? What surprised you on this list? Lastly, let me know if you have any questions!
Michelle Schroeder-Gardner is the founder and writer at Making Sense of Cents. On her blog, she helps readers learn how to make extra money, how to save money, and reach their dream life. Michelle and her husband sold their house in 2015 and currently travel full-time in an RV with their two dogs.
Steve is a 38-year-old early retiree who writes about the intersection of happiness and financial independence. Steve is a regular contributor to MarketWatch, CNBC, and The Ladders. He lives full-time in his 30′ Airstream Classic and travels the country with his wife Courtney and two rescued dogs.