Looking to buy an RV? Here is my #1 RV buying tip
Are you looking to buy an RV? The RVing lifestyle has become super popular these days, and here's my #1 tip for buying an RV, the smart way.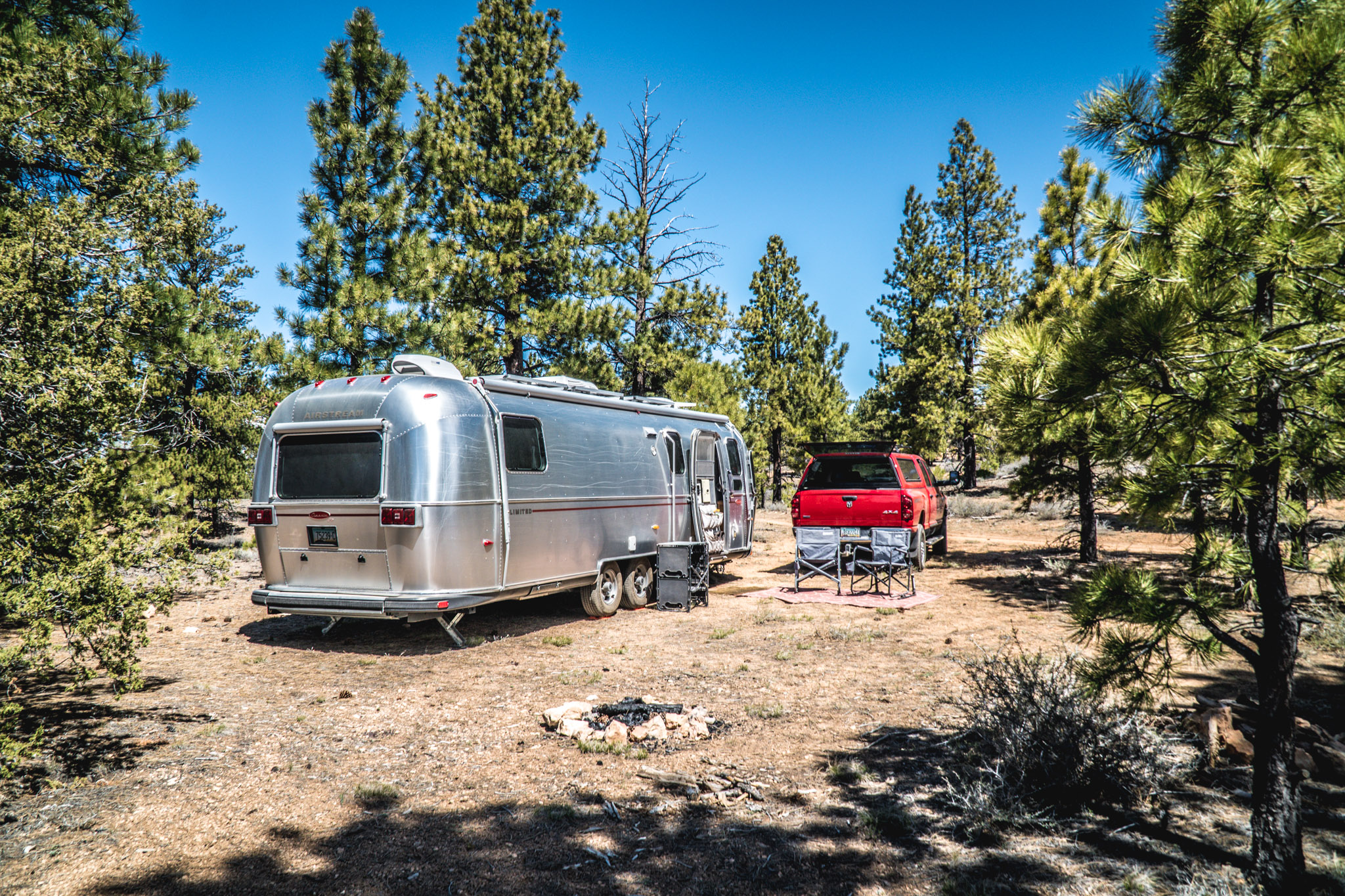 Are you looking to buy an RV? These darn recreational vehicles (RVs) are getting super popular these days (heck, we live in one full-time!). Especially in the last couple of years, RV ownership has exploded, and those living in these movable homes are getting younger and younger.
How do we avoid getting ourselves in over our heads?
While it's great that RVing has become the "in" thing, it also means a slew of new people are looking into buying their first RV. A ton of styles and sizes exist, and knowing exactly what you want can be a daunting experience.
More times than not, we figure out what we don't want before we figure out what we do want.
The more RVs I see on the road, coupled with our own experience as owners of a 30' Airstream Classic, I can easily pinpoint the most critical tip to buying your first (or second, or third...) RV.
The key is size. Yes, size matters.
How to Buy an RV the smart way
My #1 Tip: Buy as small as you can
Boom, done. That's it. Seriously, that's the tip. Buy small.
Figure out the absolute smallest space that you could comfortably live in, and don't exceed that square footage when you're looking for your first (or next) RV. When in doubt, buy smaller.
Why buy small?
Because small is easy. Smaller RVs can fit into more campsites and wild nature spots (aka: Boondocking) than a larger RV. Buy a 40' Class A motorhome and you'll be restricted to the places that you can camp. Guaranteed. Mark my words, it will happen. Perhaps often.
We've seen this even with our 30' Airstream Classic. Especially in trees. One can't easily run over towering 5-foot thick trees in the Pacific Northwest. You gotta meander your way around those suckers and find a spot big enough to fit your RV, without scraping the shit out of it.
In Oregon, we were forced to turn around and look elsewhere plenty of times - enough that it made us wish we bought a smaller rig.
Keep in mind that 30 feet is a common maximum in campgrounds. Anything over 30' may get turned away. Even if you do talk your way in, putting the ass of your RV straight into a smaller site might prove to be a frustrating challenge. And if you hit something, a costly one.
Smaller RVs also get much better gas mileage. We get 12 to 14 miles to the gallon pulling our Airstream with our Dodge RAM 2500 - a diesel. A diesel helps - or at least an EcoBoost. They are incredibly strong and long-lasting engines. But, that's a topic for another day.
It is common for larger motorhomes to churn through fuel at less than eight MPG. Weight is a huge determining factor, but the larger the rig, the more you'll store in it and, therefore, the more weight you will haul.
The smaller the RV, the easier it will be to buy and maintain. The smaller your space, the easier it is to keep clean. To buy. To fix when things go wrong. The tires alone on larger rigs pump up the cost of those beefier rigs. The cost to replace four, six or eight tires can easily reach into the thousands.
Smaller rigs require fewer tires. Lighter RVs require less expensive tires. And in general, the more the weight, the greater the likelihood of something going wrong, especially on the road. Larger RVs can't stop as fast. Corners become much tighter. Narrow road shoulders are a greater threat.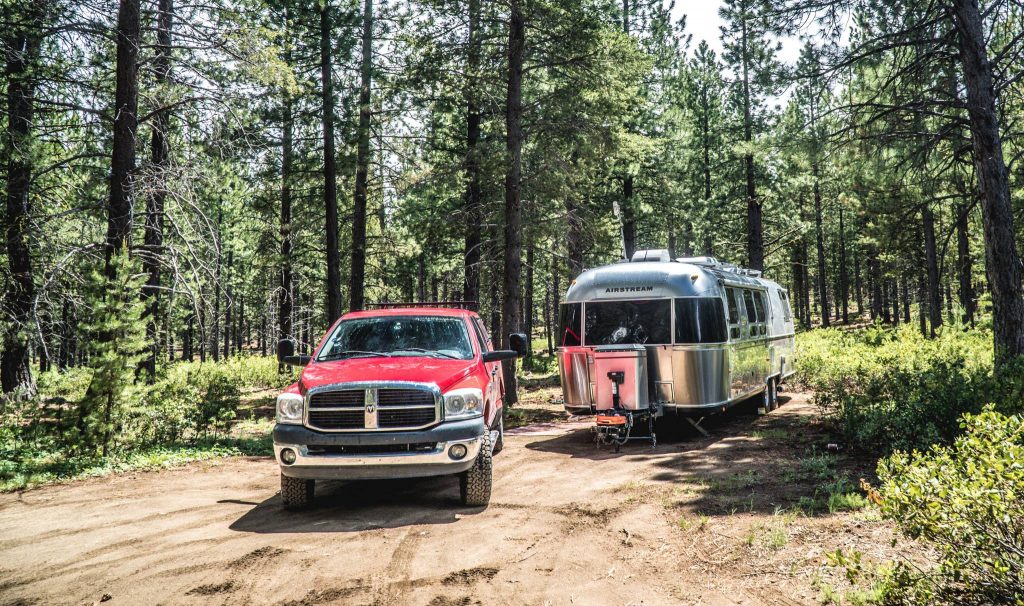 The more space you have, the more space you'll fill. Let's face it: This shit is human nature. When we have space, we tend to fill that space. With stuff. Stuff is expensive. It adds weight. It causes clutter. And, you gotta maintain all of it.
Sometimes, the less storage space you have in your RV, the better. It makes downsizing decisions easier for you.
Also, understand that your first RV will likely not be your last. Don't blow through your savings buying your first RV, and avoid buying something brand new. Chances are you WILL sell it for something else, and you'll eat the depreciation cost before you even think about getting another one. Buy used to get a feel for what you need. Then, buy used again - but if you absolutely must buy new, make it your third or fourth RV. If you must.
Nine times out of 10, smaller RVs make it easier to enjoy your time on the road. Buy small, then live large.
What about slideouts?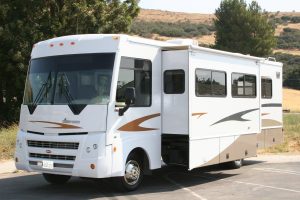 Slideouts on RVs are ingenious ways to extend the living space of an RV. Slideouts are areas built directly into the RV that literally slide outward. This reveals additional living space inside the RV and can easily make it feel more like a "traditional home".
I have no problem with slideouts - though, we don't have, and purposely avoided, them for several reasons:
Slideouts have problems - Usually, slideouts work via a motor. Motors go bad. A friend of ours had to replace their slideout motor within two years of buying their RV brand new. In the end, it's extra maintenance, expense and weight that we'd rather not carry around with us. They have even been known to slide out driving down the road. While rare, it can happen, and it makes for one heck of a headache.
Slideouts are meant to be slid out - Most RVs that contain slideouts are designed to be lived in with the slideouts fully extended. But, what if you're camped in a Walmart parking lot without a lot of clearance? Or between two trees? Or heck, what if your motor breaks and you cannot extend those slideouts? Your living space becomes compromised. Counters can (and do) butt up against furniture, making it awkward to walk around, much less live, in. When the slideouts aren't out, the living space tends to be muddled.
Slideouts expand your living requirements - One of the reasons why we chose to live full-time in an RV is to streamline our lifestyle. We are not looking for a ton of space...only the space that we need to feel comfortable. For us, slideouts defeat the purpose of living small. We like a smaller footprint.