How we use Personal Capital to track our money
Personal Capital has changed the way that we track our financial lives. Using colorful charts and linked accounts, everything's in one place.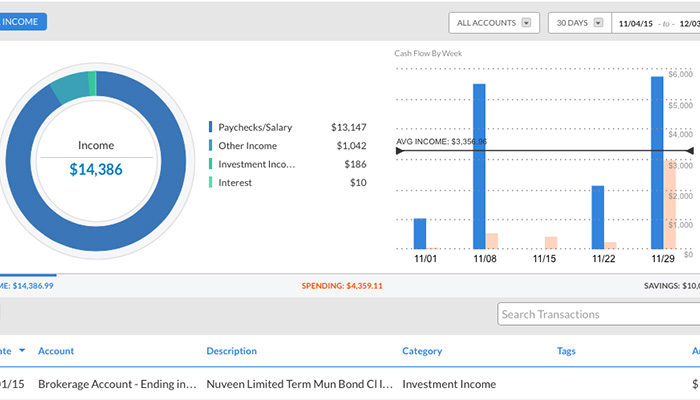 I don't say this about many financial companies out there, but Personal Capital and their online money management system has seriously improved the way that my wife and I track our money (Vanguard has a similar system that I love to death, but of course, they only track Vanguard assets!).
In the beginning, we used Mint, and while Mint did offer several features that we found helpful to our budgeting process, Personal Capital was designed for a different purpose, and we love what it does for us. Think easy visibility into your net worth and market diversification.  Also think consolidation of every one of your investment and bank accounts into a single, colorful portal.
It's all 100% free, too.
Let's take a look at how the system works, complete with pretty screenshots.
Cash Flow
Personal Capital tracks cash flow through all of your money sources. If you have five different bank accounts, Personal Capital will consolidate each and every transaction, categorize them and aggregate every money move that you make together on a single page.
Transactions can be viewed together OR separately by income and spending.
Screenshot: Shows income throughout all accounts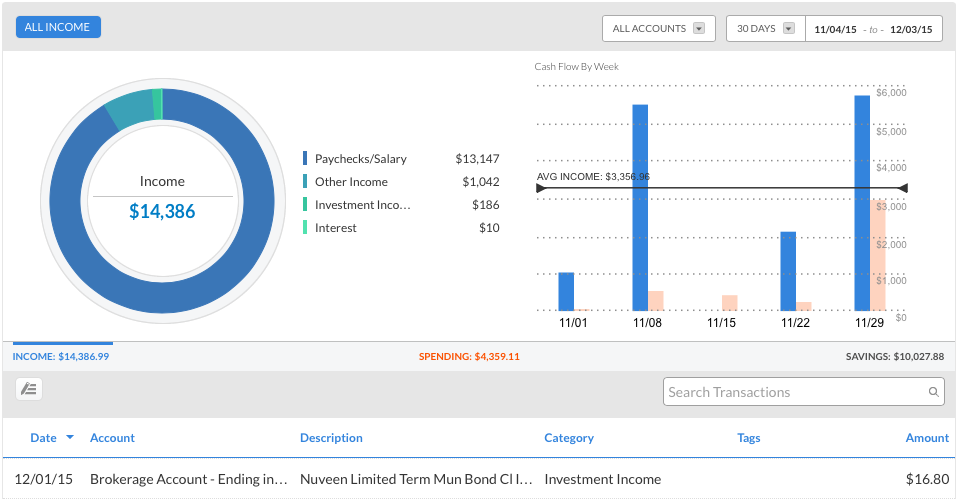 Below the graph, each income transaction is listed, complete with the account that it came from, description of the transaction as well as the category of the transaction. Personal Capital does a pretty good job at guessing the category, but these values can be changed (to include future transactions) by simply clicking on the category value (in the above scenario, "Investment Income").
Screenshot: Shows spending throughout all accounts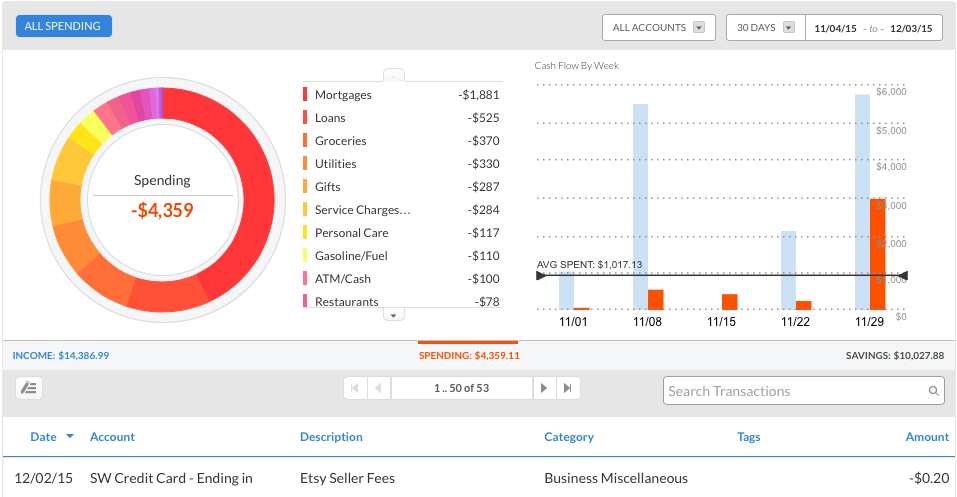 How we use the Cash Flow feature
The Cash Flow graphs and charts make it absurdly easy to gain incredible insight into the flow of our cold hard cash throughout the year. By changing the timeframe of the graph (via the top right of the graph display), we get instant visibility into any spikes or dips in income or spending. We can check month-to-month grocery expenses without an ounce of tracking through a separate spreadsheet (although my wife still does track individual grocery purchases, like a boss!).
Portfolio
Personal Capital's portfolio tracking capabilities is where it truly shines, and I haven't seen a single web-based application capable of displaying information as succinctly and easy to follow as this.
Through the Portfolio pages, investors can track their Holdings, Balances, Performance, Allocations and your US Sector holdings in the market.
Screenshot: Shows holdings in your portfolio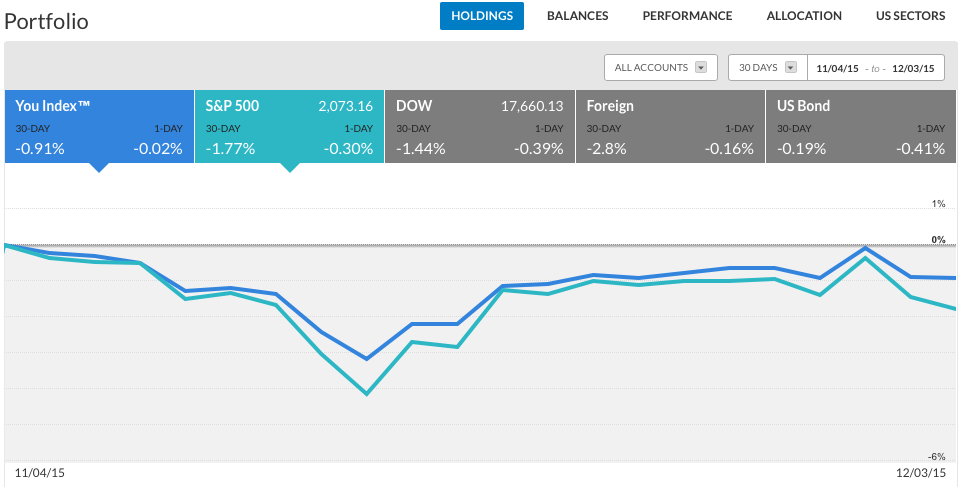 On the left, the "You Index" tracks your own personal performance during the current day as well as the past 30 days and is represented by the blue graph line. Click any of the other boxes (i.e.: S&P 500, DOW, etc) to compare your performance to other markets. In the above screen shot, I have S&P 500 selected.
Screenshot: Shows balances in your portfolio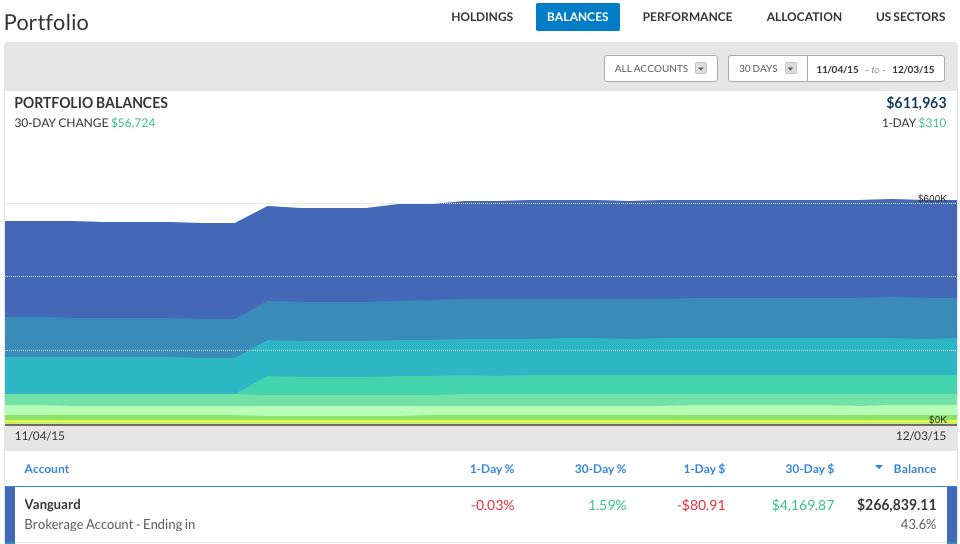 The balances screen makes it easy (and quite colorful) to view portfolio balances from your individual investment accounts. Each are color coordinated and listed out below the graph. In the screenshot above, I only captured our Vanguard account.
Screenshot: Shows performance of your portfolio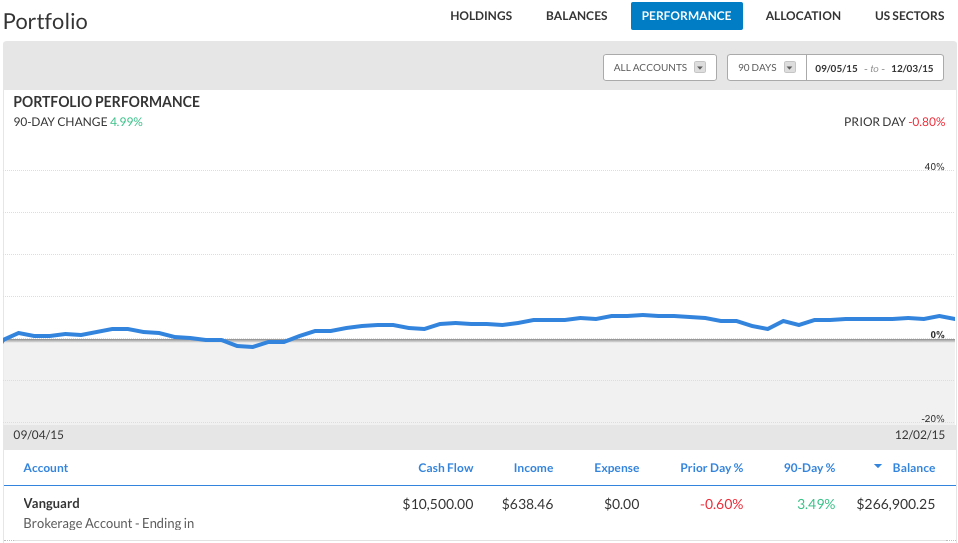 The Performance chart is one of my favorites because of how easy it is to quickly look at a high-level view of your overall market performance. Note that I have selected 90 Days at the top right of the graph (30 Days is the default). Each investment account is listed below the graph, though I only captured our Vanguard account.
Screenshot: Shows allocation of your portfolio's money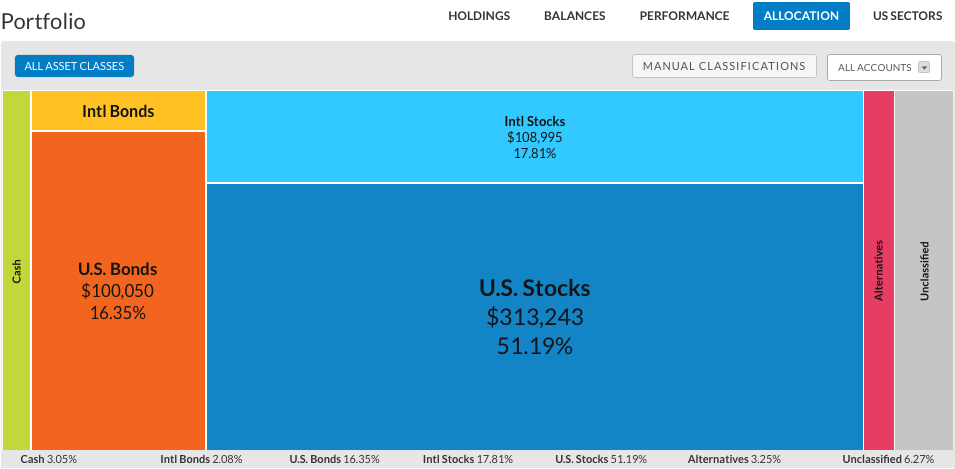 The Allocation charts are a wonderful way to track where your money is invested within your portfolio. The default view displays your entire portfolio, but each colored section is selectable for a zoomed-in look at specific areas of your money.
For example, if I select the U.S. Stocks category, the next chart looks like this:
Screenshot: Shows the U.S. Stocks allocation of your portfolio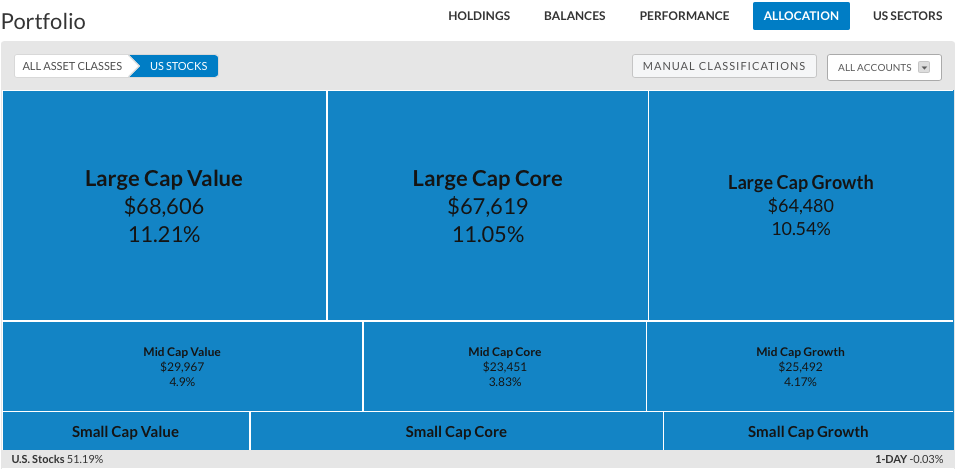 First, notice the breadcrumb trail at the top left of the chart, which provides an easy way to navigate back to your larger asset picture. In addition, each individual box on this chart is clickable as well, further diving you into your portfolio by displaying individual investment funds along with their associated percentages that they represent within your larger portfolio.
Screenshot: Shows US Sectors represented within your portfolio
Honestly, I don't spend a lot of time on this chart because it stays pretty consistent, but it does nicely show your diversification throughout the U.S. sector of the stock market.
How we use the Portfolio feature
The Portfolio graphs within Personal Capital are where this system truly shines. The ability to effortlessly fly through your entire investment portfolio with just a few mouse clicks with fully customizable graphs and charts is amazing, and I love breezing through them every now and then - whenever I want a portfolio update.
All of these graphs and charts are updated daily and provide the most up-to-date picture of your entire financial life. I do spend the majority of my time focused on Performance.
Our Net Worth
My favorite screen is the default dashboard screen that gets displayed after first logging in. It shows your current net worth snapshot as well as current market conditions. It also displays a snapshot of your holdings, cash flow, portfolio balances and allocations.
Screenshot: Main dashboard showing our net worth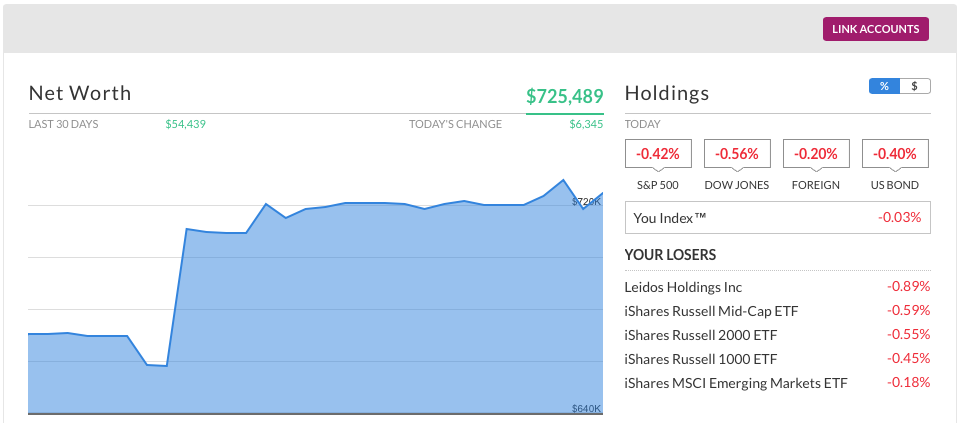 This screenshot shows the net worth and holdings portion of the dashboard. Your cash flow, portfolio balances and allocations graphs are displayed further down the page.
How does Personal Capital capture your financial life?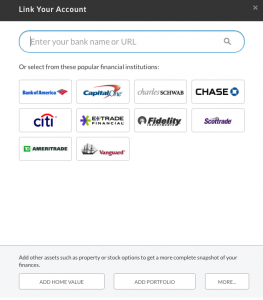 Personal Capital links to your financial institutions and pulls information straight from the source. These connections are made after the user (i.e.: you and me) manually provides his or her username and password used to access the external banking or investment system.
For example, I have both Vanguard and Fidelity accounts that I can log into online. Through Personal Capital, I provided my login credentials to those web sites, and now Personal Capital connects to them every day and pulls the latest information.
What type of accounts can you link to Personal Capital? Any financial institution like banks, investment companies and mortgage lenders. In fact, Personal Capital will even track your current home value and include that in with your net worth calculation. Just give it the address of your property (or properties!) and it will grab (and track) the current Zillow estimate.
What about security? It's true that we are providing incredibly sensitive financial account information to Personal Capital, and this is just something that we need to be comfortable with in order to use the system to its full potential.
How does Personal Capital make its money?
It is 100% free to use Personal Capital for everything that I have shown in this blog post. However, Personal Capital still needs to bring in revenue somehow.
Personal Capital makes its money by offering financial advisory services to all account holders within their system. In fact, your financial advisor is listed on the Dashboard page with a telephone number, working hours and even their LinkedIn profile page. They want you to call and schedule an appointment because they charge for this service.
In the interest of full disclosure, we have never used Personal Capital's financial advisors and cannot vouch for their knowledge or experience. We did get called a couple of times after we first signed up for an account, but we indicated our disinterest in this service and they promptly stopped calling. All companies should operate like this.
What Personal Capital is NOT
Personal Capital does an incredible job simplifying your asset picture. However, it only provides a read only view into your financial life. You cannot buy and sell stock through Personal Capital, nor can you change any information or settings (to include the username and password) for any of your external money accounts. Personal Capital's job is to simply pull and display. It does not push updates or provide a way to directly invest your money.
Do you use Personal Capital? If so, how do you take full advantage of what the system provides?