The plan: Moving things along by moving out early?
What if we moved out of our spacious 1600 sqft home early in 2016? Originally, we weren't scheduled to move until the end of the year.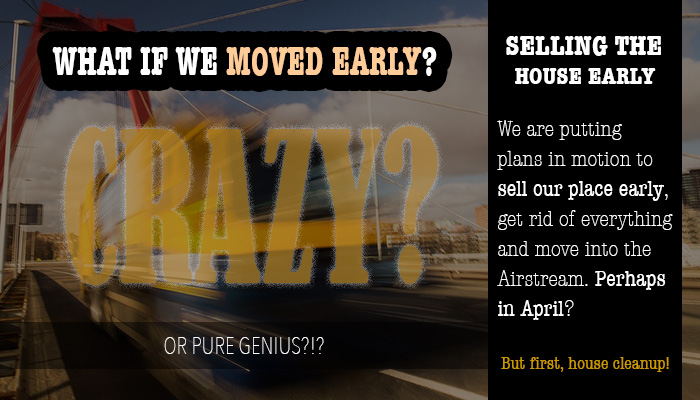 Late in 2015, we thought to ourselves: what if we moved the Our Next Life timetable up a bit by selling our house and moving into our Airstream much earlier in 2016? Originally, we weren't planning to move until the end of the year.
But, moving into our Airstream early would save us money by living small and also get us practice operating in a living space a fraction of the size of our current dwelling.
And with the stock market taking weekly nose-dives, saving a little cash by living small is starting to make more and more sense.
Okay, that sounds interesting, but how early do we move into the Airstream? How about super early - say, April or May? After all, we then have the flexibility to sell our house this year whenever the market is hottest.
Ah, this is sounding a little more interesting! The wheels began to turn in our heads - imagine getting a little more for our home by selling at the right time of the year rather than waiting for summer or early fall, traditionally where home values are weaker in our area.
If we were to sell the house early, we'd also need our Airstream early - lest we pay for temporary housing or bum a room from one of our friends. Fortunately, a couple Airstream models that we like have been sitting on a dealer's lot for a while, putting my wife and I in a prime bargaining position to pick up our next home for super cheap. And the earlier that we move in, the more experience we get living small before we begin our lives of full time travel.
And the more time that we have to fix it up and make it completely our own while stationary and around Home Depot. Okay then, things are beginning to make sense. From an unorganized idea late last year to something much more concrete and aggressive, we're on our way. Let's do this!
First thing's first...how much can we get for our home, and when?
Figuring out the right time to sell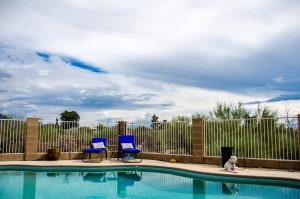 Selling real estate for maximum value is an art as much as it is a science. So many variables are in play when it comes to selling a house, from its condition to how well it is staged, time of year, stock market conditions, weather, school districts and - in the case of warm and sunny Arizona - even the ebbs and flows of tourism and the snowbird population.
A couple weeks ago we meet with a realtor to take a look at the house. Our view out the back is what's going to sell this house. We have a gorgeous view of the Santa Catalina mountains in southern Arizona and easily the nicest lot in our neighborhood. The in-ground pool and fire pit add another dimension of desirability to the outdoor living space that our home offers prospective buyers. We were hoping to sell the home for around $200k, but it looks like we might be able to get 10 or 15% more than that with a few minor touch ups. Score one for us - maybe.
In southern Arizona, summer is the worst time to sell - and that makes sense. Snowbirds aren't looking to buy winter properties when its hot and sweltering. Though people do move throughout the year, the winter and spring time are "hotter" buying seasons in our area, and that's our target.
The house still needs to show well for us to get maximum dollar. Let the touch ups begin!
Fixing the house up to sell
Our goal is to put the house on the market in early April, which gives us a few months to chip away at some of the things that need to be replaced in the home. All in all, the home doesn't look bad, but there are several things that will make the place look even better. First, the brass fixtures.
My wife and I hate brass but we never got around to replacing all of our brass door knobs, shower heads and light fixtures before we decided to sell (funny how that tends to happen). We decided to replace everything with brushed nickel. Over a few weekends, all door knobs and hinges have been replaced, lighting fixtures switched out and showers changed over to utilize brushed nickel. Instantly, the house looks better.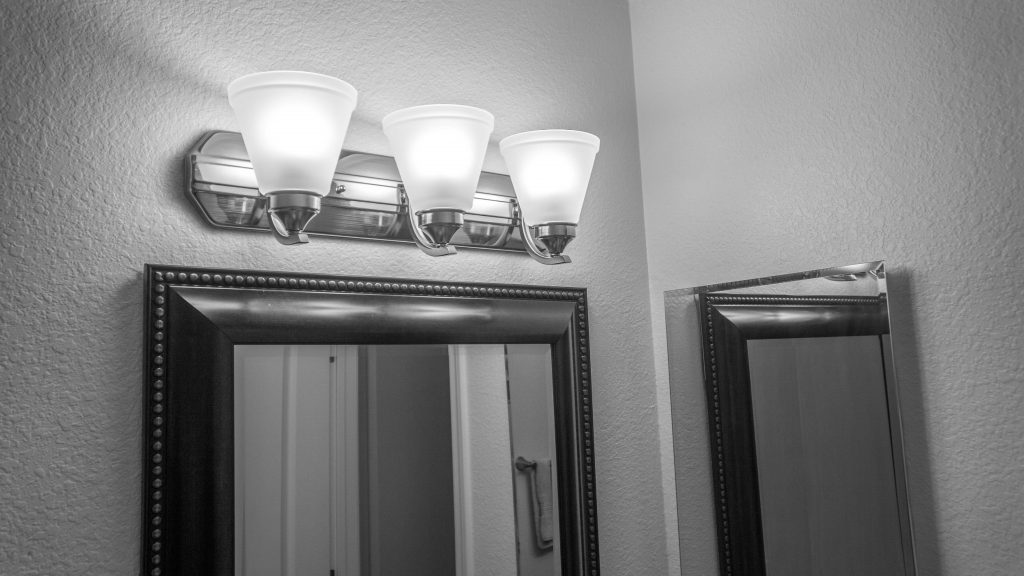 Next, the master bathroom shower needs a new sliding glass door - check. Also, we need to fill in some small holes in our tile's grout caused by air pockets carelessly left by our on-the-cheap tile guy.
In most houses, the wet areas are the most important features of the house that will increase the home's value - in other words, the kitchen and bathrooms. Our kitchen still has the original cheap cabinets, but a fresh coat of paint or stain can vastly improve them. Earlier in 2015 we got all new stainless steal appliances, along with a gas-powered double oven, that bring the kitchen up to snuff.
In our bathrooms, we bought cheap but good looking vanities from Costco, complete with a marble counter top and dark wood that looks nice next to brushed nickel fixtures (pictured below).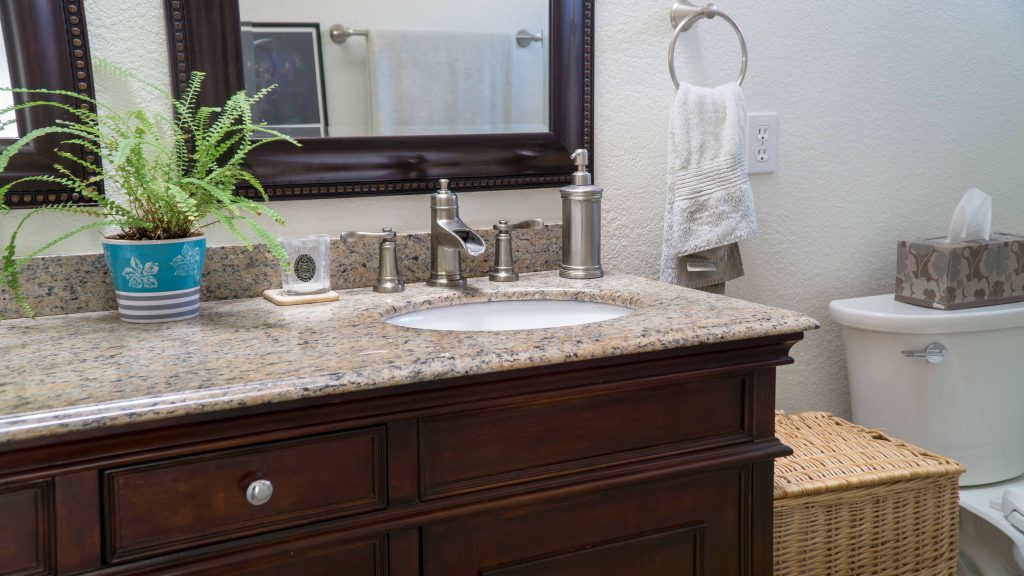 Also, our backyard needs to be de-weeded and the surrounding iron gate requires sanding and repainting. The pool is in pretty good shape and the glass-sharded fire pit is nearly immaculate.
I was never one to do a lot of my own home repairs (due to a general lack of know-how and unwillingness to learn!), but this process has taught me an important lesson of how getting off your ass and learning to do your own damn maintenance can not only save you cash, but can also be downright zenful.
What is next?
We will need to juggle the sale of our current home with the purchasing of our RV carefully. Though it is possible to temporarily stay with some friends if we don't get the timing exactly right, we naturally want to avoid that at virtually all costs. Ideally, we will have the Airstream ready to go when the house sells, or even a little before it. Then, we can easily move out of our stationary home early and leave the place 100% available for showings and ready for nearly instant turn-over after a good offer.
To that end, we've officially decided on a date to buy the Airstream and truck: the first weekend of March (4th through the 6th), a month before we put the house on the market. This should give us enough time to find a camp site in the area that we like and get situated before we officially put the house up for sale.
What about work? We are not moving our retirement dates, so we will continue working our full time jobs. My wife will commute to her current job and I will carry on with mine from the Airstream. We managed to get our hands on a grandfathered Verizon wireless unlimited data plan, so we should not be limited in how much data that we can blow through each month.
Stick with us - it's gonna be a fun ride!