I started this blog as a way to keep myself honest and focused towards financial independence and early retirement.  Within these pages, I preach mercilessly about frugal non-ridiculous living, minimizing expenses and downsizing your stuff.  But yet, I somehow can't help myself but completely support a woman's lavish lifestyle on-board a luxury cruise liner.
A $164,000 per year lifestyle, that is.  Read the story here.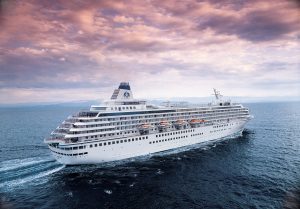 For seven years, 86-year-old widow Lee Wachtstetter has called a Crystal Serenity cruise ship "home".  By now, the crew on-board the ship is like family to her, and she regularly ballroom dances, attends cocktail parties and movies, lectures and other activities.  And, I'm sure this woman hasn't cooked a meal for herself in years.
At first, my frugal instincts kicked into high gear.  How could anyone blow through $164,000 to live on-board a luxury cruise liner?  How financially irresponsible does one need to be to choose such an expensive lifestyle?  After all, this is the kind of shit that keeps people working until they are 60 or older.
Then I realized something important: she is not some mid-30's professional working her way towards retirement, shamelessly driving around in an $80k car and lamenting the fact that retirement just seems way too far off.  She's already there.  This woman is 86 years old and long retired.
I don't know the specifics of her investments, but she obviously has quite the stash to live off of.  She's enjoying her life to the max and making friends along the way.  As she describes it, she is living a "stress-free, fairy-tale life".
I understand now that this is what retirement is all about.  This is what saving your whole life and building up an investment portfolio enables.  This woman and her late husband worked for decades to build a retirement fund to support their remaining years living stress-free and enjoying every second of their lives.
Gosh-darn-it, good for her!  She's using her retirement for what it should be used for – to enjoy life.  Is it unconventional?  Sure.  But hell, who likes convention anyway?
Instead of my instinctual reaction of questioning the need to live that extravagantly, I think this woman is doing this whole retirement thing exactly right.  She's a bad ass when it comes to jobless bliss.  If I am half as happy as she is when I turn 86, I'll be a happy camper.
My wife and I probably won't retire and move onto a cruise liner.  We may not spend $164,000 a year, either.  In whatever way we choose to live our lives at that age, enjoying the fruits of our younger self's labor is what retirement is all about.  Whether we shove off into a small cottage in the mountains, or maybe a small beach-side house in Mexico, it doesn't matter.  Retirement is the time to truly live, and this woman sure is doing just that.
What matters most is taking a page out of this woman's retirement book and learning how to squeeze maximum enjoyment out of your retirement.
This is a lesson that we all could probably learn a little from.
Steve is a 38-year-old early retiree who writes about the intersection of happiness and financial independence. Steve is a regular contributor to MarketWatch, CNBC, and The Ladders. He lives full-time in his 30′ Airstream Classic and travels the country with his wife Courtney and two rescued dogs.