Blogging
48 fresh strategies to increase your blog traffic in 2018
Use these 48 blogging strategies to boost your blog traffic fast and free. Receive an in-depth analysis of search engine optimization techniques that work for 2018.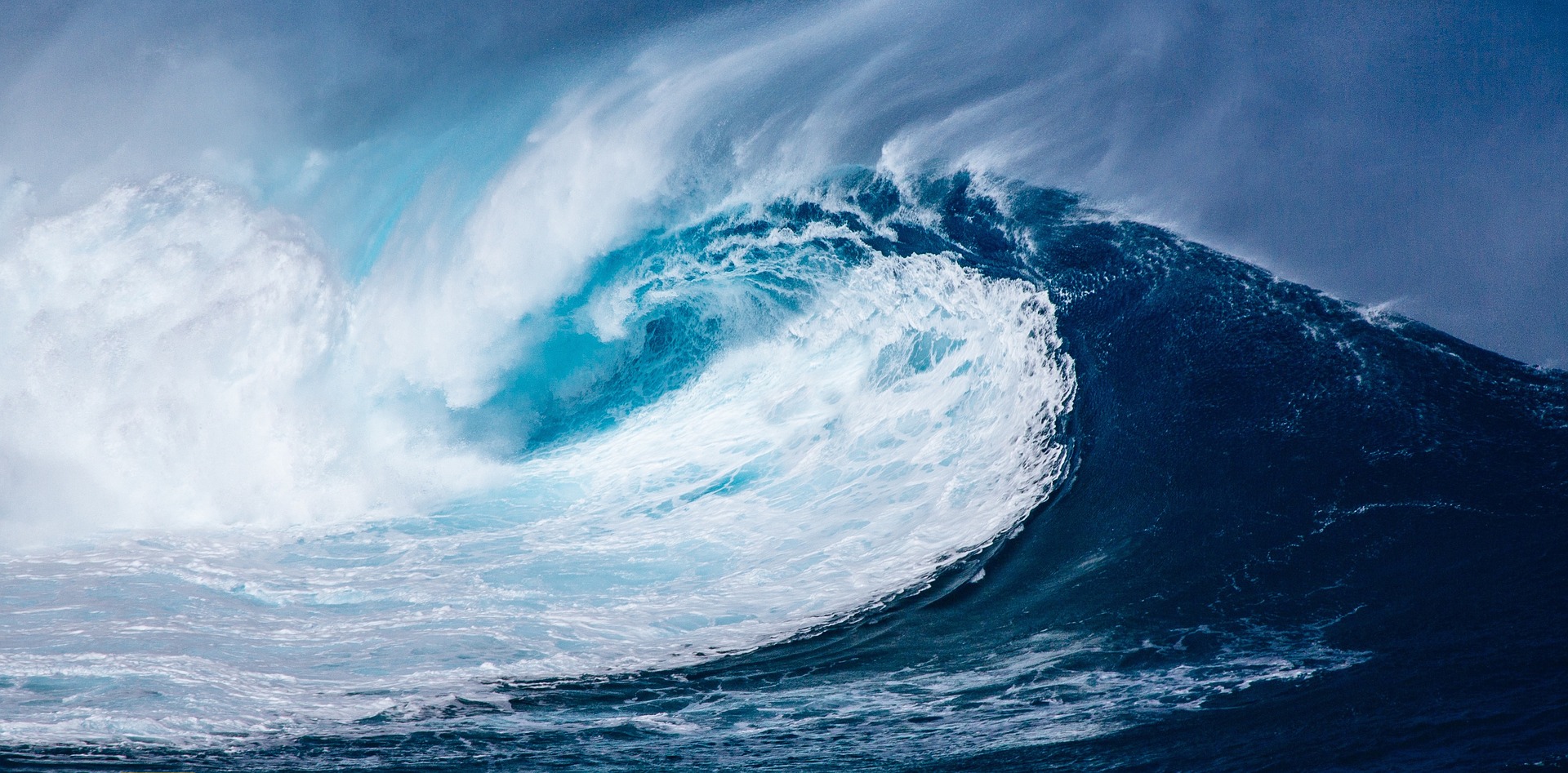 I almost never do those "listicle" articles, but I've been meaning to put something like this together for a while. When it comes to building blog traffic, there's not anything magical about the process, but it helps if you are open to exploring fresh ideas to see what works.
After nearly 20 years of running websites (long before Wordpress was even a thing), I've learned a thing or two about increasing blog traffic because I've tried nearly every trick in the book. In this post, I regurgitate everything I've learned for you in one place, and provide fresh insight for blogging in 2018.
So, grab some popcorn and settle in!
48 fresh strategies to drive blog traffic
GENERAL
1. Guest post: Guest posting increases the exposure of your blog by writing a post for another blog that includes links back to your site (aka: "backlinks"). Remember these key techniques before pitching your guest post idea to another blogger to increase your chances of success!
2. Ask for guest posts: Asking other bloggers to write a post on your blog helps to keep content rollin' on your site and it might also offer up a unique perspective for your readers that you hadn't thought of. However, pay special attention to making sure these posts are high-quality. Don't just accept anything and everything that's out there. The more popular your blog becomes, the more offers for guest posts you'll get (I get a ton every week, but I only accept a tiny fraction). And, I'll be honest - the majority of these unsolicited guest posts probably won't be the quality that you expect. Usually, there's more in it for them than you.
3. Comment on other blogs: Not only does this help to expose your blog to a wider audience, but it also begins to integrate you into the community. Always make sure that your comments are helpful and that they add value. Never comment with just a link to your blog. Ever. Doing that will get you hate, and you'll deserve it.
4. Use a custom domain name: Instead of yourblog.wordpress.com, register yourblog.com. Custom domain names provide credibility to your blog and also give you the flexibility to switch web hosting providers any time you like without your readers (or search engines) knowing about it.

5. Write something interesting: Make sure your content is actually interesting. Seriously. If you're writing about something that you'd find on any other blog in your industry, you're killing your chances of separating your blog from the huge pack of others. Remember, everybody is a "blogger". What makes people want to read YOUR blog? Interesting topics help, big time!
6. Be unique: The more unique (read: different) your website is, the more people will want to follow your style of writing. It works the same way with authors, movie directors or creative businesses. The more unique your site, the better.
TIP: If you don't yet have a personal style, experiment. Try different things like varying your post length, using informal vs. formal language...even cursing vs. not cursing. Your readers will be drawn to different things, and your personal style will help to carve your niche.
7. Publish something controversial: Depending on the nature of your blog, writing about controversial topics can increase the flow of traffic to your site. Be aware, though, that controversial topics might encourage hateful comments from your readers, so be prepared if you do go this route. Don't alienate your audience. Instead, use controversy to encourage thought and discussion.
8. Challenge yourself: Give yourself traffic goals to reach, and prioritize reaching those goals over anything else in your life (within reason, of course). If you want 100 new email subscribers by the end of next week, officially challenge yourself and do it. Don't half-ass your challenges or you'll never actually accomplish them.
9. Start an email list: An email list holds precious cargo for bloggers: their readers! If you don't have an email list, start one! I like ConvertKit. Then, use that email list to keep your most loyal readers coming back for more and sharing your content with their friends and family.
To help encourage people to sign up, include sign up forms on your blog. Most email marketing services (like ConvertKit) provide pre-built forms that are easy to integrate into your site. I like to include a sign up form at the bottom of every post I publish (like this one), as well as a larger form on the homepage in a very prominent area. I also have a smaller form in the right-hand sidebar.
Honest confession: I largely ignored my email list for years. I didn't care. I never bothered to use an email marketing service and didn't place a lot of emphasis on building my email list. Had I paid more attention to this in the past, my traffic levels would be significantly higher today.
10. Use your email list: Too many bloggers are afraid to email their list out of fear that their subscribers might get upset and unsubscribe. But, I have news for you: You'll never prevent people from unsubscribing if they truly want to, and when they do, who cares? People signed up for your list because they want to be emailed. They want to stay up to date with whatever it is that you're doing. Certainly, don't spam them with useless crap every day. But, don't hesitate to actually email your email list.
11. Don't include entire posts in an email: Many of us like to send an email to our email list every time we publish a new post. While this is an excellent strategy, don't include the whole post in the email. Instead, include the first few paragraphs (an excerpt) and put a link at the very bottom to encourage a click to read the rest of the post on your site.
For example, here is a screenshot of what my emails look like from ConvertKit: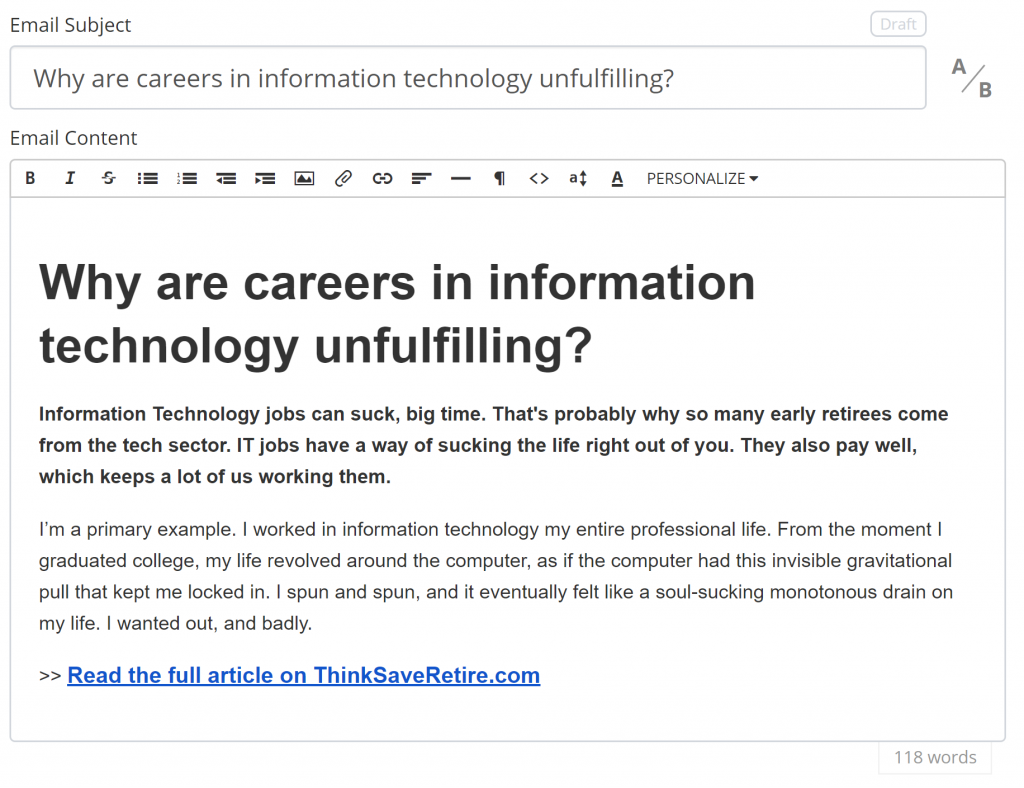 Note: These emails are NOT generated automatically. Instead, I create each and every email and schedule them to be sent out a couple hours after a new post is published. This does add to my workload, but it has been well worth my time.
12. Give a damn: This should go without saying, but unfortunately, it doesn't. Your blog is like your child. It'll run on its own for a while, but eventually, it needs support. Care enough about your blog to put in the time and effort to nurture that sucker - especially at the beginning. Don't neglect it and expect your traffic to increase. More times than not, it doesn't work that way.
Like with most things in life, you get out of your blog what you put in. For example, manually creating emails in ConvertKit definitely adds time and energy to my posting process, but it has also boosted my traffic on days that I publish new posts.
13. Find (or buy) a theme that looks nice: Don't slap together a Wordpress install, use the default theme and expect people to flock to your site. Websites that look like they were put together by a middle schooler probably won't perform in a way that you hope. It doesn't happen that way. Your reader's impression of your site has a huge impact on their willingness to come back and recommend your material. If you need to pay for the right theme, then pay for it. It's money well spent.
Personally, I like Theme Forest the best for finding Wordpress themes and HTML templates for virtually any purpose. In fact, the theme that I'm running now was bought through Theme Forest. Thousands of themes are available. Actually, more than 42,000 to be exact.

14. Expand to different mediums: Blogs focus primarily on one type of media: text. But not just text...text through a blog. However, there are all types of mediums out there to explore. Consider expanding your blog's content beyond just your site.
You probably don't have the resources to start a print newspaper (another medium), but you might have the time and motivation to expand into audio via a podcast, or video on YouTube. Capturing audiences from a variety of content mediums can significantly expand the reach of your site and help funnel traffic in your direction.
15. Keep your sidebar calm: Too many links - especially affiliate links, can trigger the "spam" alert with Google as it indexes your site. It's perfectly okay to include affiliate links in your sidebar, but don't overwhelm that area with a bunch of advertisements or images as that can negatively affect your search engine ranking. Also, try the no-follow technique to keep search engines from following your affiliate links away from your site.
16. Find your reader's hangout: If your readers tend to hang out on Reddit, become a Redditer. If they talk about things through a Facebook group, join the group. If it's a web-based discussion forum, then hop onboard. In other words, go to where your audience is and engage. Don't just spam them with your blog (that tends to have the opposite effect). Instead, add value by giving value. Within the personal finance community, the Rockstar Finance Forums is the popular hangout.
17. Use Google Analytics: Not only is GA free, but it's also incredibly enlightening. With Google Analytics, you can find out where the majority of your audience is coming from. You can see your most popular blog posts, where your readers are coming from (referrals) and what areas of your site that your users spend the most time on. Google Analytics provides us with the wisdom we need to more efficiently use our time on the right things.
Be careful, though. Google Analytics can be addicting!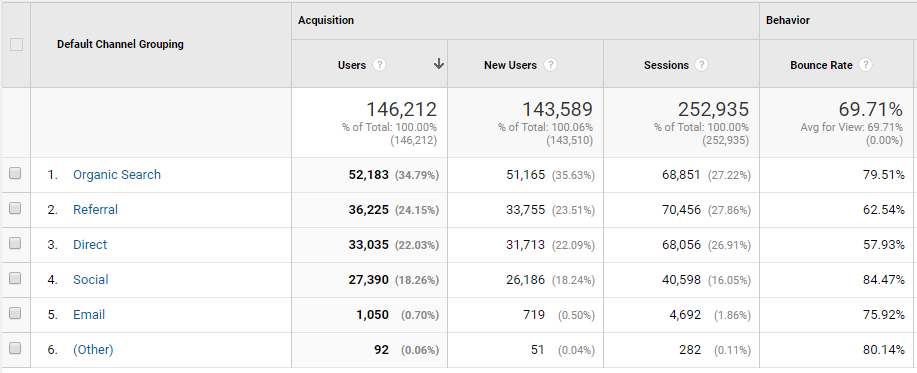 18. Don't begin your titles with a word that ends in 'ing': According to this guy, the best titles generally don't begin with a word that ends in 'ing". Instead of titling your next post "Fostering goodwill among your local community", for example, consider turning the first word into an action rather than a gerund: "Foster goodwill among your local community".
19. Build internal links: Linking to your own content is an excellent method to keep your readers on your site. This should be an ongoing process. Routinely add links in your older posts to content that you've written more recently. Keep doing that to continuously expand your network of internal links. This will keep readers on your site for longer periods of time and lower your bounce rate (available within Google Analytics).
20. Write reviews: Writing helpful reviews on new or popular products can generate traffic, especially if you use star review capabilities that support Google Rich Snippets. Rich snippets help to increase click-through rates by including your review straight into the Google search result.

STRATEGIES
21. Offer something for free: People love free shit. Admit it. We all do, don't we? Offering something for free (an ebook, a course, etc) can significantly increase the traffic inbound to your blog. My free 7-day email course on How To Start Your Own Money Blog sent a huge amount of traffic in my direction. It also nearly doubled my email list overnight because I integrated the course in with my ConvertKit email list.
22. Design viral content: Every once in a while, blow out a 3,000-word post. A "definitive guide". A huge listicle (like this one!) Something that you want your blog to be known for and that provides more value, detail, and education than any other source out there. Spend days or weeks on these posts if you have to. Remember, there is no need to crank out these posts every week. Occasionally, publish one. How can you create viral content? OkDork.com has you covered. :)
23. Use blog comments for article ideas: If you're ever struggling with what to write about, the comments section of your blog could be a gold mine. Blog comments tell you exactly what's on your reader's minds. Use those comments to help determine what your next blog post should be. And whenever you use an idea from your comments section, totally kill it. Spend extra time on that post to make it the best it can possibly be.
24. Pick up on trends: Use a source like BuzzSumo.com to identify trends and popular topics within your niche to write about. Not only will this help to give you ideas, but if you write about them sooner rather than later, you are also crushing the element of time. The right article in the right place at the right time stands to drive incredible amounts of traffic in your direction.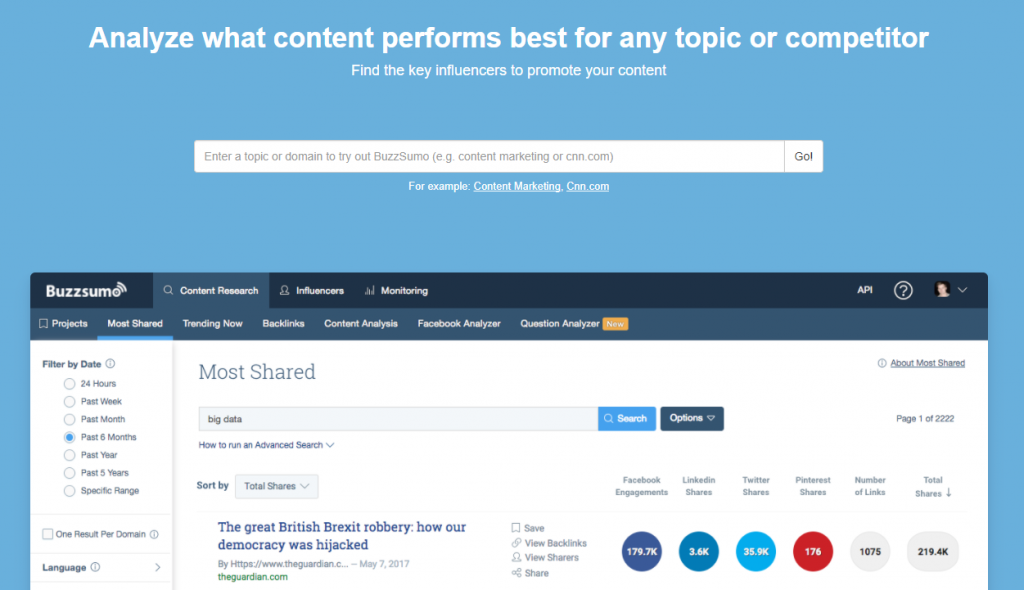 25. Make your evergreen content sustainable: Evergreen content is like viral content, but it's designed to remain a huge source of traffic for your blog for months (or years). As such, Evergreen content should be written on topics that will never die. Evergreen content isn't time-sensitive. It needs to live on forever.
26. Create courses: Courses seem to be all the rage right now, and for good reason. Good courses provide incredible value. Not only can they generate significant revenue for the blogger, but they can also help usher in traffic to a blog when those courses are connected to a blog.
27. Revise and Republish: This is an excellent strategy that I use to recycle content and add value to past blog posts. The idea is to take an article - especially one that you worked hard to write, and republish that article after adding more value to it. Update facts and figures. Re-write elements that may have been confusing (use the comments to help with this). Change anything that might be out of date. Then, republish that sucker to send it to the top of your RSS feed and encourage Google to index it again. Remember - you're not creating a NEW article with this strategy. You're republishing an existing article. The URL should never change (unless you include the date in your URLs - which I generally do not recommend).
SEARCH ENGINE OPTIMIZATION
28. Use SEO-friendly themes: Not all Wordpress themes are created equal. In fact, not all web designs, in general, are created equal. Use a theme that conforms to basic SEO techniques, like including just a single H1 tag on any page, and one that effectively separates style from content.
29. Use headings properly: Every page should have a single H1 tag. The H1 tag tells Google what content is most important on your page. Then, use any number of H2 -> H6 tags to further denote a hierarchy of keywords to search engines. Typically, the title of each blog post will take the H1 heading and all sub-headings will follow.
30. Mobile friendly: Google penalizes websites that are not mobile friendly. Ensure that your site loads properly using a variety of devices from large desktop computers to the smallest of mobile devices. Most themes these days are mobile friendly, especially those that are available through reputable theme repositories like Theme Forest.
31. Use HTTPS when possible: Though I've written about HTTPS in the past, Google will increasingly use the presence of HTTPS to rank websites in search results. The earlier that you can transition your website over to HTTPS, the better. If you are unsure how to enable HTTPS for your blog, contact your web hosting provider. It might be as easy as a few clicks of a button.
32. Write longer posts: Google is increasingly prioritizing longer content over shorter content. Google is getting smarter. It is getting better and knowing what content is genuinely helpful and what content isn't. Longer, well-designed content will tend to perform better in 2018 and beyond. In fact, the average first-page result on Google these days is nearly 1,900 words!
33. Site speed matters: Research consistently shows that faster websites rank significantly higher than a slower loading web site. Use caching, image compression and smart information design to ensure your site loads as quickly as possible. Also, consider using Google's PageSpeed Insights tool to help discover potential problems that can slow your site down.

34. Outbound links help! Outbound links are links that take your readers away from your site. Believe it or not, these links can help improve your search engine ranking by associating your blog with the website that you are linking to. Thus, link to reputable, high-quality websites...like, umm, this one?  ;)
35. Use long-tail keywords: Long-tail keywords are phrases that consist of multiple words - usually at least three. It's easier to rank well for long-tail keywords because they are less competitive with Google. For example, "Blogging" is a hugely competitive keyword. However, "Blogging about red dirt" probably isn't. Use multi-word phrases to increase ranking potential.
SOCIAL MEDIA
36. Know when to post to social media: There are a ton of studies and research out there about timing your posts on social media most effectively. CoSchedule.com put together a wicked blog post that consolidates a lot of this data for easy, beautiful (and colorful!) consumption.
When is the best time to post to social media accounts like Twitter, Facebook, Instagram, Pinterest and even LinkedIn? Take a look.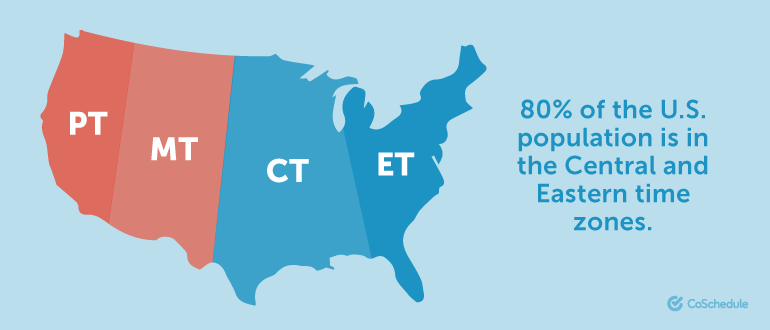 37. Setup at least two, maybe three, social media accounts: For most blogs, the two most important social media accounts are Twitter and Facebook. At the very least, set up accounts at those two social media websites for your blog - and, use them!
However, Pinterest may also provide traffic potential.
Pinterest retains tremendous value for the right blogs, but it's also a whole different type of animal. It's not a social media network at all. Instead, it is more like a visual search engine. Here are 35 tips to master your Pinterest account.
A few tips for using Pinterest effectively:
38. Focus on high-quality pins: Pinterest is fickle. You won't get amazing results without spending an amazing amount of time perfecting your strategy. Creating large, high-quality pins are crucial to succeeding at Pinterest.
39. Pin consistently: If you can, try to pin at least five pins a day to start. Once this becomes second nature, increase your pinning frequency by five until you're pinning 15 to 20 pins per day. Depending on your goals (and schedule), you might pin more (or less often).
40. Don't just pin your own material: While it can be tempting to only pin your own stuff, the Pinterest ranking algorithm is on to you. It likes it when you're a consistent pinner with all types of pins from a variety of blogs - not just your own.
41. Use TailWind to help schedule pins: Tailwind is one of the best web applications I've ever used to help me schedule pins to the Pinterest account that I created for ThinkSaveRetire. It's incredibly capable and easy to use and makes your job at consistent pinning much easier.
And on Twitter:
42. Engage on Twitter: Twitter was built for engagement, not just links to blog posts. The more you engage, the more followers that you'll get. In three years, I managed to get more than 7,200 followers - and I didn't buy a single one! No tricks. No tomfoolery. Just engagement.
43. Re-tweet liberally: Just like with Pinterest, don't hesitate to tweet other people's material or retweet their tweets. Remember, this creates goodwill. You're making friends online, and when you publish something of your own, you're more likely to see retweets of YOUR stuff from those whom you've retweeted in the past. Think of the golden rule with this one.
44. Use social sharing plugins: Make it easy for your blog readers to share your content by including sharing buttons in each post that you publish. I include buttons to share on Facebook and Twitter at the bottom of each and every post, as well as general links to my social media profiles at the very top of my sidebar on the right.
45. Ask for retweets: I've run experiments and found that you're much more likely to be retweeted when you ask for a retweet within the tweet. Try it. However, don't abuse this. If you ask for retweets on every tweet, you'll just make your followers angry. Only ask for a retweet on your most important tweets! For the record, I've been on Twitter for about five years and have asked for a retweet probably three or four times, total.
And on Facebook:
46. Post every article on your Facebook page, but don't overdo it: I have found that over-posting the same content to Facebook has a negative side effect. It clutters up the Facebook news feed for followers of my page. I like to post every article once for the day, that's it. I might occasionally sprinkle in older content here and there throughout the week.
47. Consider creating a Facebook group: Facebook groups are like discussion forums. Facebook groups might encourage your followers on Facebook to discuss and engage with your content through a medium that they know and feel comfortable with. And you never know, others might stumble onto your Facebook group too and discover that you have a blog!
48. Engage with your audience! Don't just post a link to your latest blog article and then ignore your social media accounts until the next time you publish something new. Engage with them by answering questions and responding to their comments. Using this technique shows that you care, and it helps to build a more dedicated and loving audience.
S
Steve Adcock
Steves a 38-year-old early retiree who writes about the intersection of happiness and financial independence.