Featured Finfluencers
LINK by Prudential helps you meet your money goals (Sponsored)
LINK by Prudential is a tool that learns how you spend money to provide custom, personalized advice to help YOU accomplish your goals.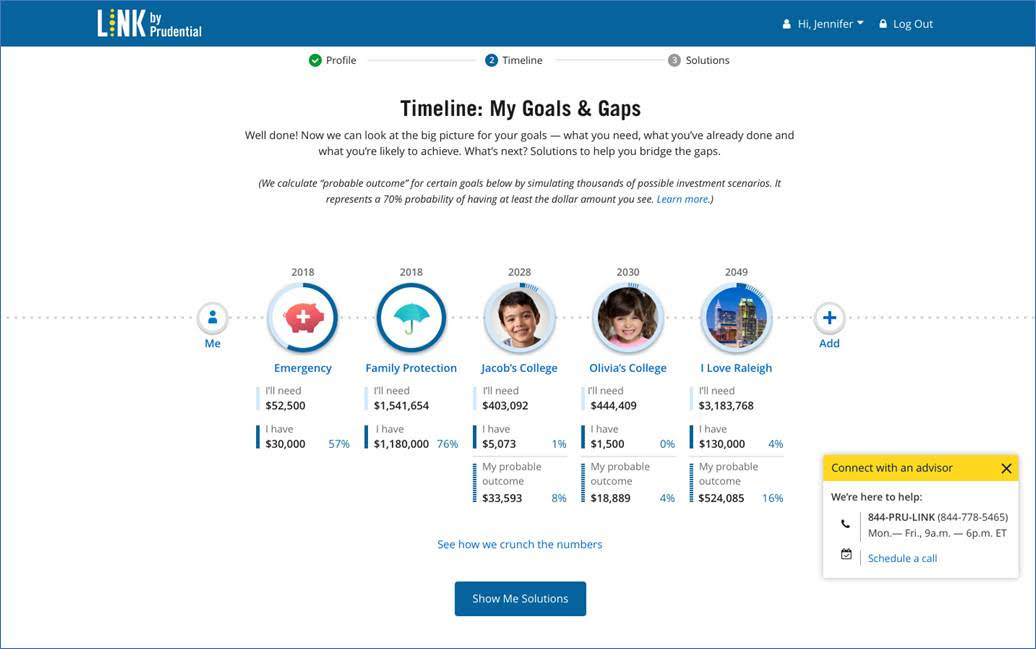 I must say that I'm a bit jealous. Over the last several years, the technology market has exploded with tools that change the game of money management. Imagine having insight at your fingertips every step of the way, and a tool that learns how you spend money to provide custom, personalized advice to help YOU accomplish your goals.

LINK by Prudential is just that. And, I have partnered with Prudential in this post to talk about one of their newest tools.

Though the post is sponsored by Prudential, opinions expressed are entirely my own.

I wish there was a tool like this before I called it quits at 35. It's true that there are calculators, but nothing quite like this. Years ago, my wife and I used complicated spreadsheets full of formulas and Excel wizardry to track our money goals and run simulations.  

Now, Prudential is just making this super easy.
How to Join LINK by Prudential
Jump over to the LINK by Prudential page and tap the 'Start Now'  button.

On the next page, start your journey. First, you'll create a Prudential profile by entering some basic information such as your name, age, location, and household income.

Don't worry, Prudential isn't asking anything overly personal. This is relatively high-level information that'll help personalize your experience with LINK.

At the very end, you'll create your Prudential account with a username and password (if you already have a Prudential account, you can use that one). That's how you'll log in and stay up to date with your personalized recommendations.

After creating your account, now it's time to start creating your money goals, starting with the most important - Emergency.

I like to accumulate at least six months of emergency savings, but to start this goal, be honest about your money situation and select the best option for you.

Spend some time to establish the next several goals by making your selections and clicking the 'Next' button (you'll be able to create more goals at any time - I discuss that below).

Note that you can skip any of the goals during this initial set up process by clicking the 'Remove This Goal' link that's underneath the Next button.

I created the following scenario:

Household earnings: $200,000
Monthly expenses: $5,000
I want to retire by 55, and I'm currently 37
And, I want a 12-month emergency fund
I'd like to live in Scottsdale, AZ
My estimated lifespan is 90 years
Instantly, LINK by Prudential came up with how much I need to save in my emergency fund and how much money I'll likely need to retire while maintaining my desired standard of living.

I will need $48,000 by the end of 2019 and around $3 million to retire - again, based on the numbers that I've entered and my chosen goals.

Hint: These goals can be adjusted at any time. LINK will re-evaluate your money profile based on those new numbers. For example, if you get a new job with a higher income (congrats!), go back into your profile and bump up your household income!  :)
Add a Goal
We know that life isn't quite as simple as an emergency fund and retirement. A lot happens, like weddings and children, job losses and huge windfalls...and everything in-between.

The magic to personalizing LINK for your individual situation is by adding goals to your profile. Goals are essential milestones that you'd like to reach or expenses that you know will happen.

To add a goal, be sure that you're looking at your LINK Timeline. Then, select the 'Add' button to the right of your existing set of goals.

Note that in the example below, I only have an 'Emergency' and 'Retirement' goal set up.

Let's add another. Here's how my screen currently looks:

After clicking 'Add' on the right, select the goal that you'd like to add (hint: You can select more than one goal if you'd like). For our example, let's add a Home.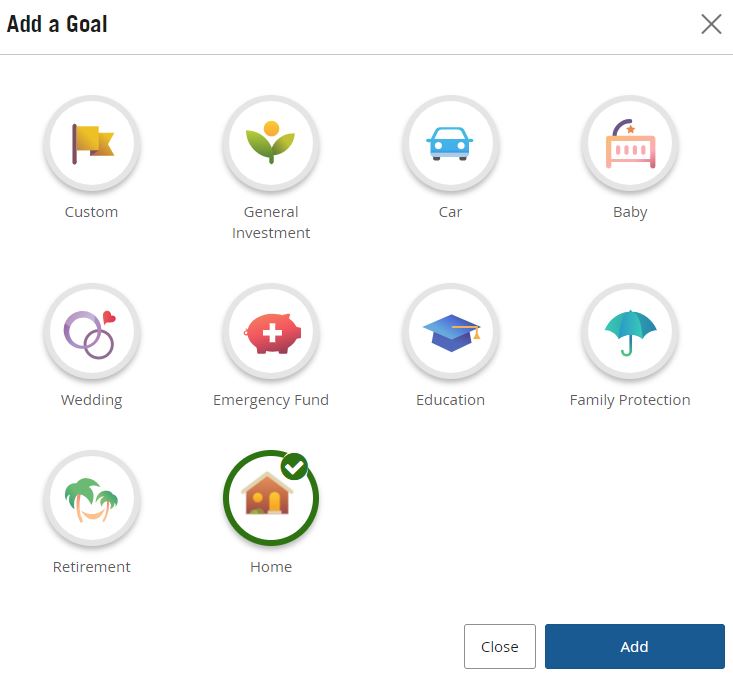 Now, we get to enter some of the specifics of what we're looking for in our next home, including its total cost, your monthly savings goal for the home, your planned downpayment, etc.

I've included some example numbers below.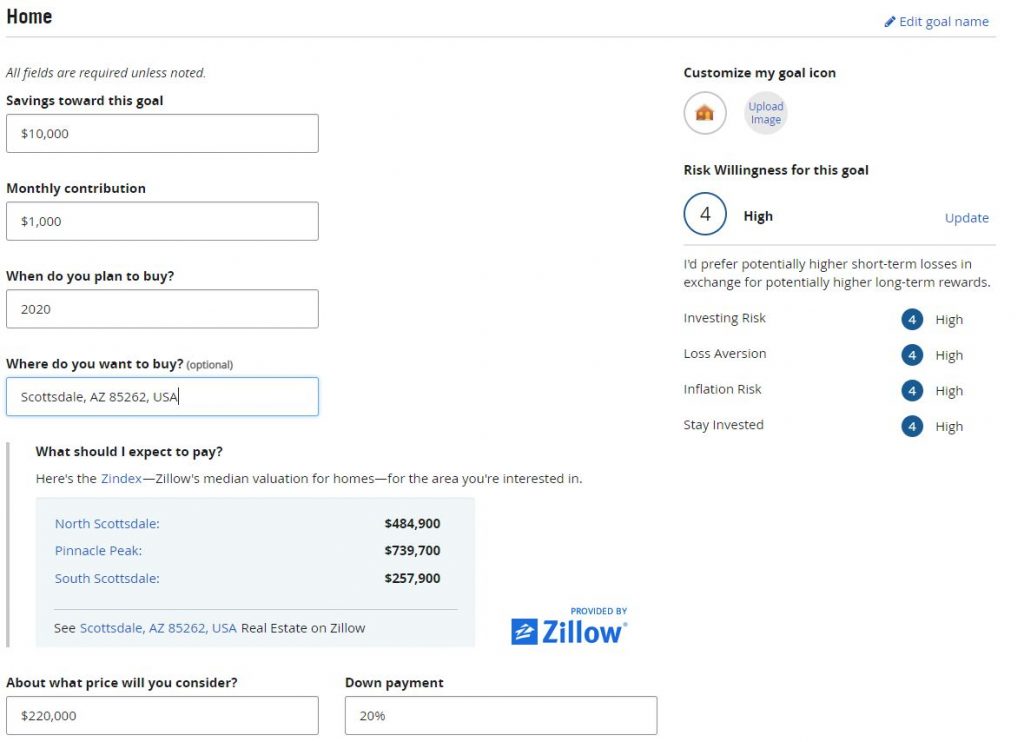 I'd like to buy a home in 2020 that's around $220,000 with a 20% downpayment. And, I'd like it to be in Scottsdale, AZ. Notice that LINK automatically brings up average home prices in the area. It's looking like I might need to save a bit more or bump up my anticipated budget to buy a home in that area, but we'll leave this as-is for now.

Once we've added the goal, our list of goals will now update with our planned home purchase: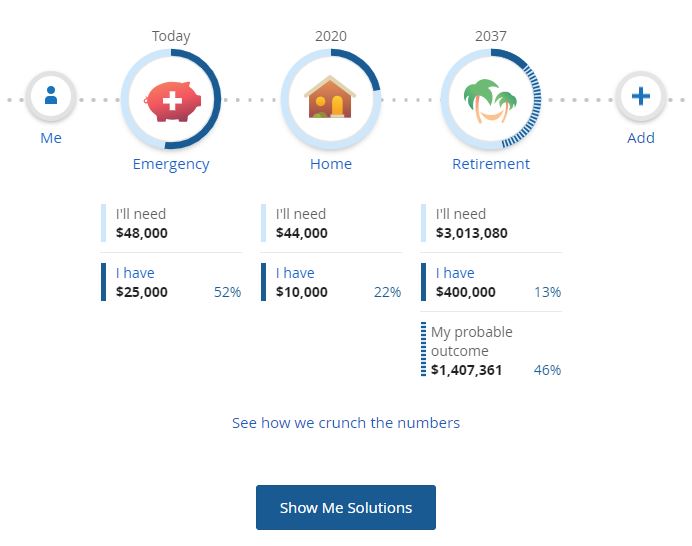 With each new goal, LINK by Prudential will continually update our numbers. These numbers help us to visualize what we'll need, and when. And, we will begin to understand how our money goals affect our planned retirement.
How to get the most out of LINK by Prudential
The more that you use LINK, the more insight you'll get. I highly suggest playing around with your numbers to see how small changes to your goals effect, well, everything.

For example, the above scenario assumes that I want to retire at 55. The numbers that you see underneath the 'Retirement' goal are calculated based on that retirement goal.

But, what if I push my retirement back to, say, 60? I'm willing to work another five years. How does that affect my retirement numbers?

Click on the 'Retirement' goal and change your retirement age. In this case, I changed that number from 55 to 60. Now, take a look at the new calculation.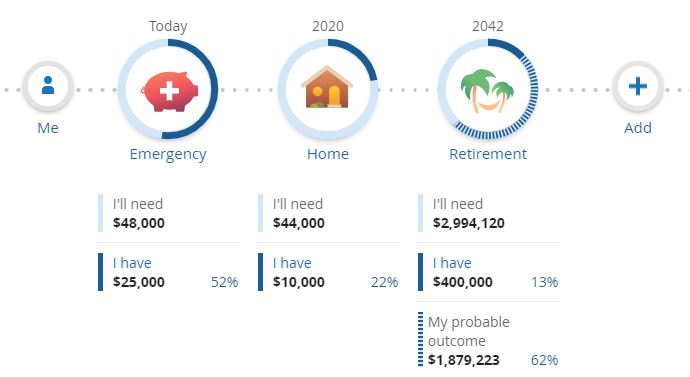 Ah hah! By pushing my retirement back five years (and my other savings and investment goals remaining the same), I now have more cash to play with. And, notice that my retirement date (listed above the 'Retirement' goal circle) updated from 2037 to 2042.

The "I'll need" figure decreased because I am now working longer and will accumulate more money before retiring. My intended lifespan (around 90) stayed the same.

With each goal, you can customize the goal icon that displays on your profile's timeline as well as the "Risk Willingness" on the right hand side of the screen. Risk Willingness refers to how much risk you're willing to accept to accomplish that particular goal.

Here is what your LINK by Prudential profile might look like with a family of four, complete with your adorable kid pictures and a location goal.
Keep adding goals and adjusting the numbers.

For example, what if you decrease the cost of your upcoming marriage by 10%? Or, how would having a baby affect your planned retirement? What if you got a job that paid 25% more, or you moved to a much lower cost of living area?

The magic sauce with LINK by Prudential lies in the experimentation. Play around with numbers and goals to get a feel for how small (or big!) changes affect your life.

Sometimes, it's tough to make sense of money. And, the road to get from where you are to retirement can seem foggy and disorienting. To understand your situation better, it can help to visualize your life using easy-to-use tools, not just spreadsheets and formulas.

LINK by Prudential is a personalized experience that learns about what's important to you and connects you with solutions and financial professionals to help you achieve your goals.

LINK by Prudential breaks down your financial picture into easily-manageable chunks (called goals), and does the math for you. Use LINK by Prudential to run experiments to visualize how major changes affect your life.

LINK would have saved my wife and me a lot of time in the lead up to our retirement!

S
Steve Adcock
Steves a 38-year-old early retiree who writes about the intersection of happiness and financial independence.